News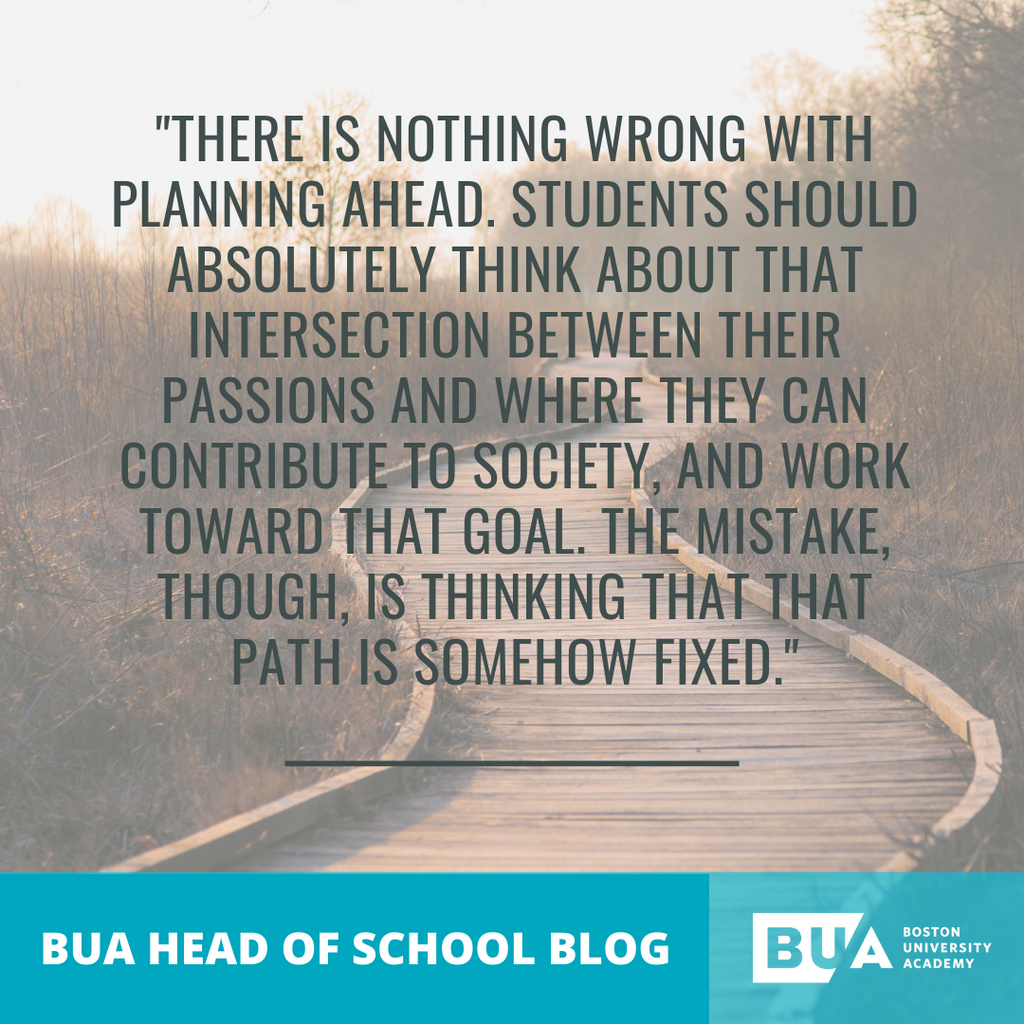 Earlier this week, I had the great pleasure of joining a career panel where BUA graduates working in the medical field shared their experiences with current students interested in medicine. It brings a smile to my face to watch generations of BUAers together — alums eager to give back and offer some guidance to the next cohort; current students meeting lifelong mentors and seeing reflections of their older selves looking back at them. One of the great gifts of being part of a school like this is that you are part of a multi-generational family that will always be there for you.
Many of the questions from current students were tactical: How can I find a doctor to shadow as a high schooler? How should I structure my college choices to get ready for medical school? Should I consider an accelerated, seven-year liberal arts/medical degree? How do I choose between focusing on research and practice? The graduates answered these questions, sharing anecdotes and lessons learned from their experiences. 
What I found most interesting is that, in the final minutes of the event, the advice from alums turned away from the tactics to something more philosophical — more pastoral. They told our students that they should choose a major in college that they love and not worry so much about pre-med requirements, which they could finish later; that internships at this age don't define your career; that there is no need to decide on specialties now. In a nutshell, they told our students that they have time and options.
High school and college students tend to feel that every decision they make somehow determines their path. There is so much pressure to choose and get into the "right" college, which will open the doors they need later. They work hard to find the internship that will begin the straight line on their resume to their eventual dream job. They choose a major — often more than one — with the same mindset: this will be who I become.
There is nothing wrong with planning ahead. Students should absolutely think about that intersection between their passions and where they can contribute to society, and work toward that goal. The mistake, though, is thinking that that path is somehow fixed. A study from the Bureau of Labor Statistics found that, on average, Americans have 12 jobs between the ages of 18 and 52, nearly half of which fall in the 18 to 24 range. In my adult life, I've worked as a management consultant, a lawyer, a teacher, and an administrator. At each turn, I thought I was choosing my forever path and worried that I was closing doors. Experience has taught me that I was wrong.
My parents are immigrants to this country and did not attend college. They eventually started a dry-cleaning business — where my brother and I worked as teenagers — and built a wonderful life for us. The greatest gift they gave us was an excellent education. That education gave us a freedom they did not have: to explore career paths that are both financially sustaining and personally fulfilling; to pivot when needed to try something new; and to land on our feet.
To our students, my message is that you have more time than you think. The decisions you make now are important, but they are not determinative. You have the freedom to take good risks. And your families, and your BUA family, will be here to support you as you do.