Interscholastic Teams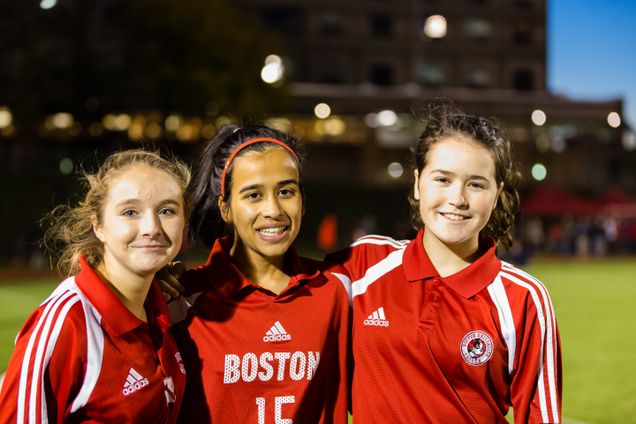 Boston University Academy offers a variety of competitive team sports. Students are encouraged to get involved in after-school athletics regardless of prior experience. Though participation in BUA's athletics program is not required, student-athletes must commit to attending all practices and games.
Boston University Academy's interscholastic teams compete in the Massachusetts Bay Independent League, the New England Preparatory School Athletic Conference, and the Girls' Independent League.
Teams
Fall Sports
Soccer, Varsity (Co-ed)
Soccer, JV (Co-ed)
Cross Country, Varsity (Co-ed)
Winter Sports
Basketball, Varsity (Boys)
Basketball, Varsity (Girls)
Basketball, JV (Boys)
Fencing, Varsity (Boys)
Fencing, Varsity (Girls)
Spring Sports
Crew (Co-ed)
Tennis (Co-ed)
Ultimate Frisbee (Co-ed)
Directions to Competing Schools
Boston Trinity Academy
Soccer
Connell Field #1
50 W. Smithfield Rd.
Hyde Park, MA 02136
After Dedham Parkway becomes Enneking Parkway, take a right onto Smith Field Road. The fields are on the left.
Bradford Christian Academy
Soccer
Bradford Elementary School
18 Montvale St,
Haverhill, MA 01835
Cambridge School of Weston
Covenant Christian Academy
The Dexter School
Soccer
20 Newton St.
Brookline, MA 02445
The entrance to the school is located on St. Paul's Ave. off of Newton Street at the Boston-Brookline town line, just opposite Lars Anderson Park and the Antique Auto Museum. For the playing fields, use the 2nd right on St. Paul's Ave.
Waldorf School of Lexington