Events
Get to know Boston University Academy through the following opportunities:
Upcoming Events:
Boston University Academy Virtual Open Houses
Sunday, October 3 | 12:30-2:30 p.m.
Tuesday, November 30 | 6:30-8:30 p.m.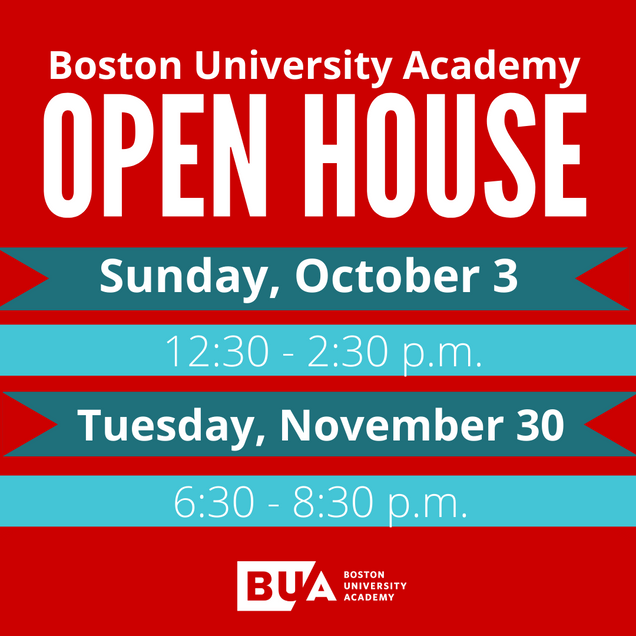 Join us virtually to learn more about our dynamic community of learners and distinctive program of studies. Teachers, students, and current parents will be available to speak to the BUA experience. Following a welcome program, there will be sessions to hear more about specific subject areas, financial aid, our parent network, and clubs and activities offered at BUA. Register here to receive the Zoom links and detailed information about the events.
MasterClass Mondays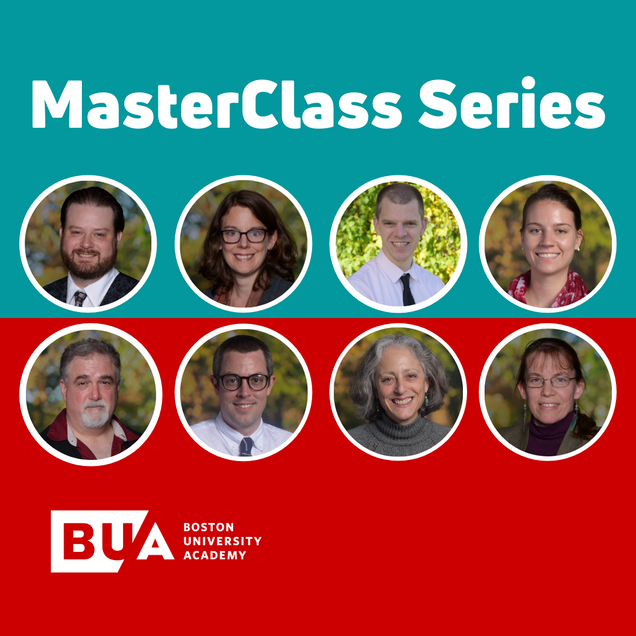 Monday, November 1: Music and Theater
Monday, December 13: Chemistry and History
Monday, January 24: Classics and Physics
Monday, February 7: English Literature and Mathematics
By popular demand, we are excited to bring back the BUA MasterClass Monday Series. BUA teachers are the heart and soul of our school, and we want applicants (and their parents!) to experience the dynamism of our academic program for themselves. Our teachers will give prospective families a sneak peek into their classes and teaching style by hosting zoom classes—participation is encouraged! Registration links will be available later this fall but save the dates for now!
Commuting Webinar
Tuesday, November 9 | 7:00-7:45 p.m.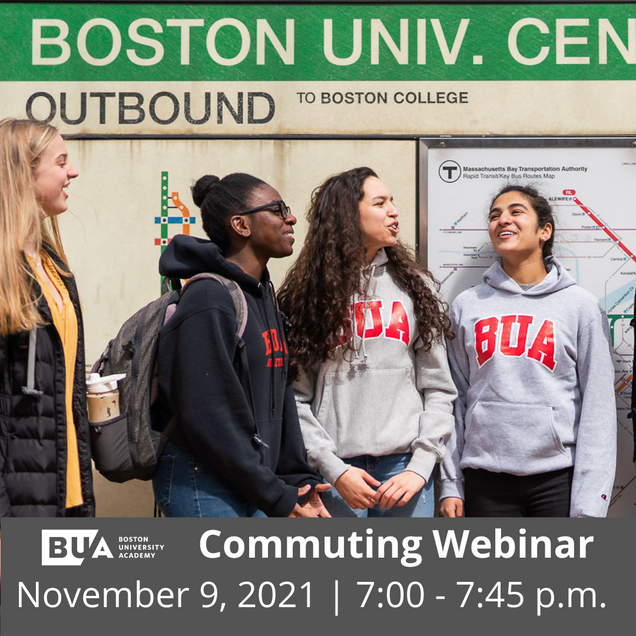 Curious about how BUA students get to school each day? Join our live Commuting Webinar to hear first-hand from our students about how they manage their daily commutes. Over 85% of our community takes advantage of public transportation options to commute to school from 60 different cities and towns around Massachusetts. Register now via Zoom to receive the link. We welcome applicants and their parents to join, and there will be ample opportunity for Q&A!
Boston Independent School Collaborative Virtual Fair
Tuesday, October 19 | 7:00-8:30 p.m.
Wednesday, December 8 | 7:00-8:30 p.m.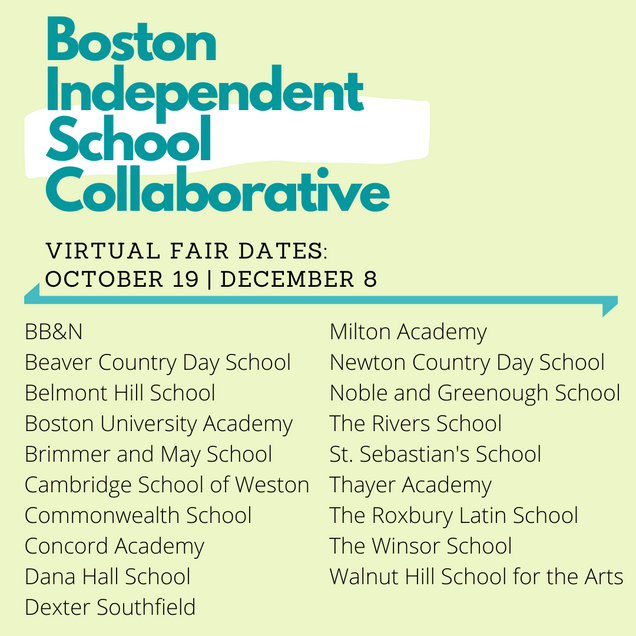 The Independent School Advantage: hear a panel of Admissions Directors from 19 Boston-area Independent Schools talk about mission driven education, high academic standards, individualized student experiences, educating the whole child, and other topics relevant to the applicant's journey towards enrollment. The program will begin with a panel, followed by zoom meeting rooms to allow families to connect with individual schools and learn more about their specific programs and admission processes. Families can register for the October 19 event now!

Past Events:
Boston University Academy & Commonwealth School Joint Info Session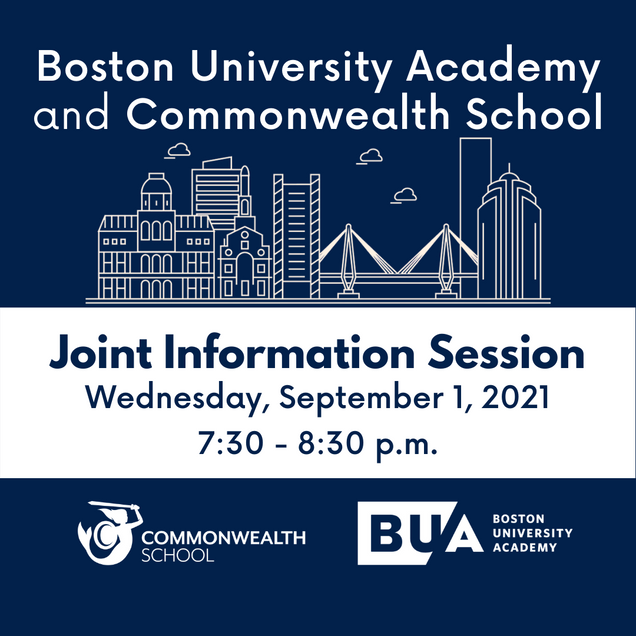 Watch the recording of the Joint Information Session here.
We welcome your family to join Directors of Admission from Boston University Academy and Commonwealth School to learn more about our academic programs and unique communities. We will share information about our respective schools, outline our admission processes, and offer time for a Q&A.
Milk & Cookies
Watch the recording of Milk & Cookies here.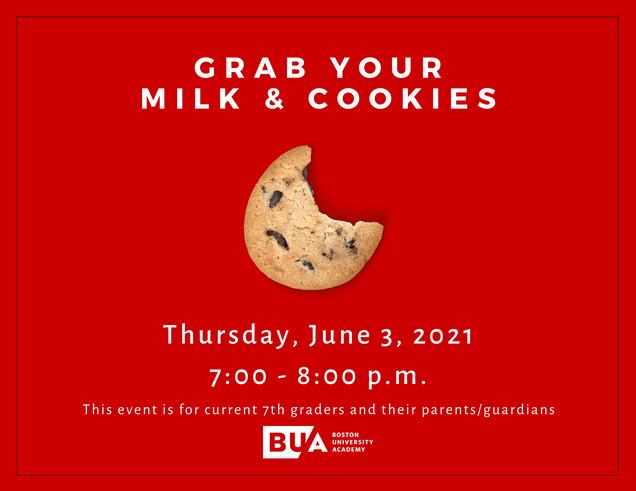 We are excited by your early interest in BUA and look forward to getting to know your family in the coming year. While we had hoped that we would be able to host you on campus this spring for our annual Milk & Cookies event, we are adjusting our plans to keep the health of our community and guests as our top priority and look forward to (hopefully) welcoming your family on our campus this fall. In that spirit, we hope you'll join us virtually to hear from recent graduates about their experiences at BUA, what they miss most about our community, and how their time at BUA impacted their transition to college. Grab your Milk & Cookies–we can't wait to "see" you online!
This event is intended for rising 8th graders (currently in grade 7) and their families only. 
Virtual Open Houses
Watch the recording of the Open House student panel here!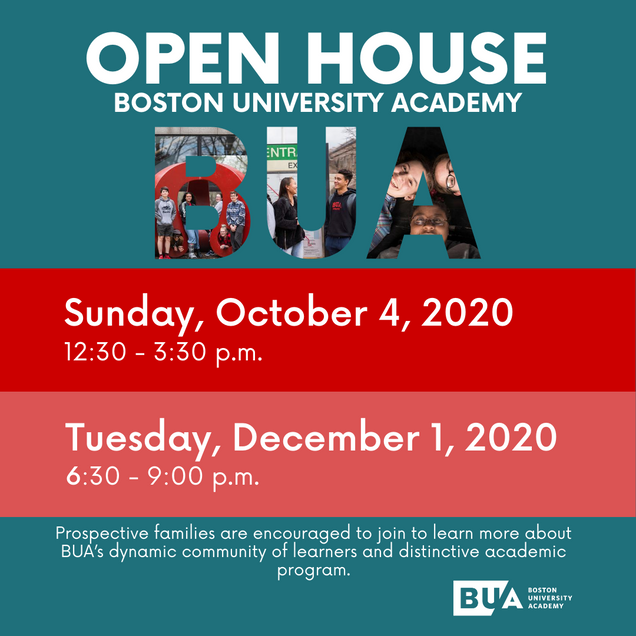 Join us via Zoom to hear from our Director of Admission, Head of School, teachers, students and current parents about our distinctive program of studies and warm, tight-knit community. Following the welcome program, there will be sessions to hear more about specific subject areas, financial aid, our parent network, and clubs and activities offered at BUA.
Evening with the Head of School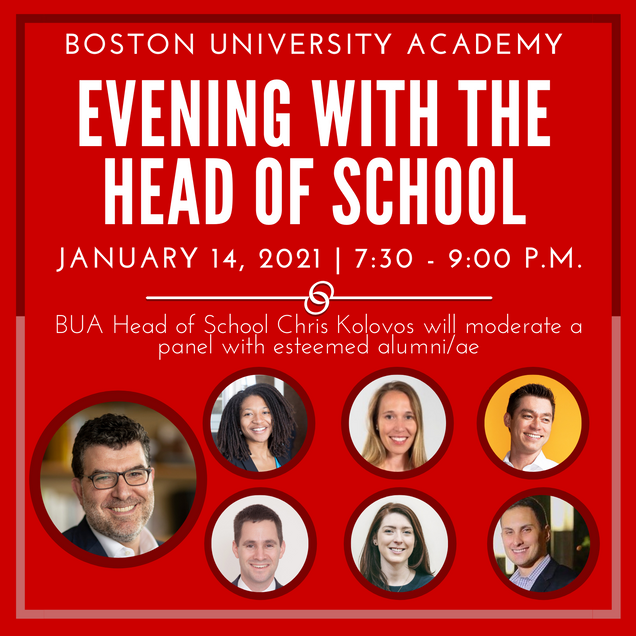 We invite your family to join us for an Evening with the Head of School. This special event features BUA Head of School Mr. Chris Kolovos moderating a Q&A session with a panel of esteemed BUA alums. Join us to hear more from our alumni/ae about their time at Boston University Academy and what they have been doing since they graduated.