How to Apply
Thank you for your interest in Boston University Academy. We are fully enrolled for the 2021-2022 academic year, and are no longer accepting applications for entry in the fall of 2021.
If you are interested in applying for entry in the fall of 2022, our admission season begins in September and ends in January for entry the following school year. BUA welcomes applications for grades 9, 10, and 11; however, families with students in grade 7 and younger can still complete an online inquiry form in order to be added to our mailing list and so that we can send materials when you are eligible to apply.
We are excited to learn more about you and your family and, in turn, share information about our vibrant community so that you can determine whether we are the right fit for you!
Important Admission Dates & Deadlines
| Date | Deadline |
| --- | --- |
| Sep. 1 | Online Application Opens and Visit Scheduling Begins |
| Sep. 22 | Virtual Information Sessions and Interviews Begin |
| Oct. 2 | Financial Aid Application Opens |
| Jan. 1 | Priority Deadline for Preliminary Applications; guarantees an interview |
| Jan. 31 | Deadline for Admission and Financial Aid Applications |
| Mar. 10 | Admission and Financial Aid Decisions Released |
| Apr. 10 | Deadline for Enrollment Decisions |
How to Apply
Step 1: Notify the BUA Admission Office of your interest
Families who wish to receive admission materials, schedule an interview, attend upcoming events, and apply to Boston University Academy should complete an online inquiry form. 
Step 2: Schedule a Virtual Information Session and Interview
As a part of the application process, we require all prospective families to attend a Virtual Information Session led by BUA's student Admission Ambassadors between September 22 and January 29. Information sessions will be an opportunity to learn more about our program of studies, tight-knit community, and an opportunity for Q&A with current students. Once your family has registered for an information session, you will receive a confirmation email, which will include a link to schedule your required Zoom Interview with our team. Zoom Interviews will last for 45-60 minutes and interviewers will meet with students and then expect to connect with a parent or guardian. These meetings are an opportunity for us to learn more about our applicants and a time where we encourage them to ask us any questions they may have about being a student at BUA. Interviews are conducted by members of our admission team, which includes BUA admission office staff, teachers, and alumni.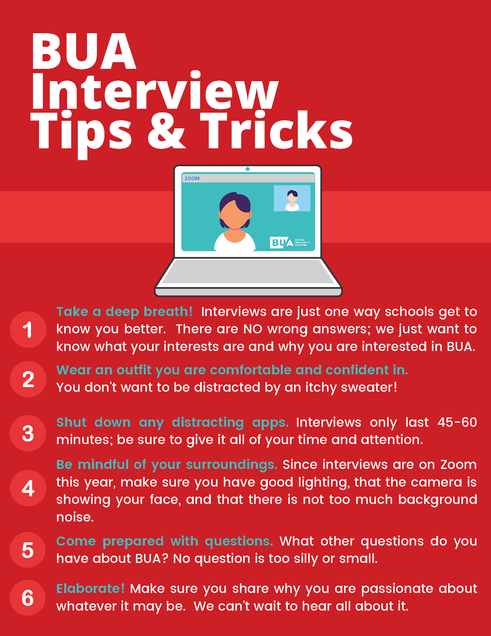 Step 3: Create an account in Ravenna, BUA's online application system
Your family can electronically submit the various components of the application and track the status of your materials through Ravenna. Once you register with Ravenna, you will need to create your child's basic profile and then select 'Boston University Academy' from the School Directory to begin the application process.
Step 4: Complete the Preliminary Application through Ravenna
This portion of the application captures biographical information in addition to an initial student profile and a non-refundable application fee ($60 domestic, $100 international). Please contact the Admission Office if the application fee is a hardship for your family. Your family is required to submit the Preliminary Application prior to an admission interview; all families who do so by January 1 will be guaranteed an appointment. Preliminary Applications are only available online through Ravenna.
Step 5: Register to take the necessary standardized test(s)
Given the difficulties surrounding at-home SSAT testing, Boston University Academy has removed its testing requirement and become test-optional for the 2020-2021 application cycle. Learn more about this decision and BUA's test-optional policy here.
Step 6: Submit all additional application materials by January 31
A complete application for admission includes these additional pieces:
Family-Provided Materials
Student Questionnaire
Graded School Essay (can be uploaded electronically)
Parent Questionnaire
School-Provided Materials*
School Report/Recommendation
Current English Teacher Recommendation
Current Math Teacher Recommendation
Transcripts (current grades and reports from the previous two years)
* Teacher recommendation requests are sent electronically within Ravenna therefore you will be required to indicate the appropriate person at your student's school to receive each of these forms. The school will then submit these items directly to BUA.
[OPTIONAL] Video Submission
Some students like to upload videos to share more about their extracurricular interests and passions. These have most often included music, dance, or athletic recordings. This is not a required component of the application and is just included to provide a space for these videos if sharing would better illustrate a component of an applicant's interests.
Students are also welcome to record a short video introducing themselves and sharing more about an academic or extracurricular interest that would help our admission committee get to know them.
Additional Materials Required of International Applicants
Additional Materials Required of Homeschool Applicants