Tuition and Financial Aid
BUA recognizes that all families make sacrifices to afford their children the opportunity of a BUA education. We also acknowledge that some families in our community may be experiencing financial hardship currently as a result of the COVID-19 pandemic. BUA offers semi-annual and monthly payment plans so that families may space out payments over the course of the year. The school has also earmarked emergency assistance funds as a supplement to the general financial aid budget. This financial help may come in the form of tuition assistance or grants that may be used to meet a family's basic needs. Enrolled families should contact Director of Financial Aid Paige Brewster (617-358-3440; brewster@bu.edu) if they have concerns about their ability to afford next year's tuition, and if they would like to learn more about the options available.
2020-2021 Tuition and Fees: $48,832
Tuition and fees do not include incidental expenses, books, or lunch.
Affording a BUA Education
We recognize that the decision to enroll at Boston University Academy is a significant financial commitment for all families. These are some of the most common ways that BUA families are able to finance their investment.
Cost Benefits and Financial Aid at BUA
Our financial aid program is designed to help make a BUA education accessible to qualified students who otherwise could not afford the cost of attendance. Financial aid is offered in the form of need-based grants, which do not need to be repaid. Where possible, the Financial Aid Committee does its best to meet 100% of a family's demonstrated need.
Recipients of need-based financial aid
31%
Average financial aid award

$30,457

Range of financial aid awards
$2,716-$46,508
Average income of families who receive financial aid
$

152,037
*all figures are for the 2019-2020 academic year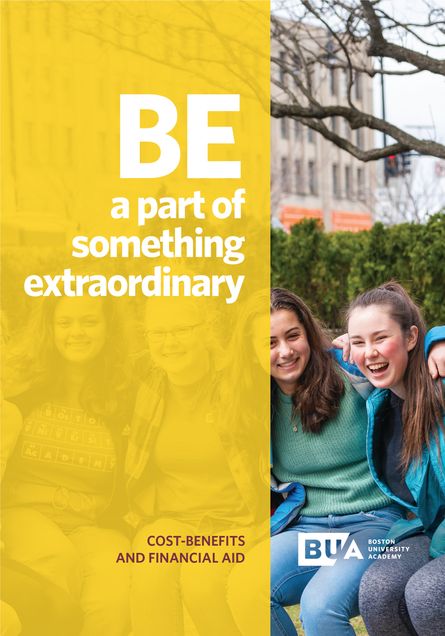 Boston University Academy does not currently offer merit-based grants or scholarships.