Head of School
Welcome to Boston University Academy!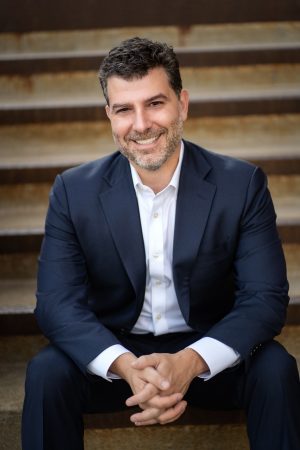 It is my pleasure to welcome you to Boston University Academy, a school for students who are as kind and curious as they are capable.
We are a place where students and teachers live out our mission: "In our caring high-school community, students who love learning are challenged to think critically and read deeply, and to explore adventurously the wider world of learning at Boston University."
As a high school embedded within a major research university, BUA offers the best of both worlds: a challenging, caring independent-school experience and access to a broad range of university courses. In the eleventh and twelfth grades, students take up to twelve courses from the 2000+ courses in Boston University's undergraduate curriculum — everything from Linear Algebra to American Urban History, Computer Systems to Abnormal Psychology, Chinese through Literary Masterpieces to Environmental Change & Sustainability. They also apply those credits to their undergraduate experience at top colleges around the country, including BU, where BUA students in good standing gain automatic admission. 
But, at its heart, BUA is a small, tight-knit high school community, with a faculty who know and love our students. The ninth and tenth-grade experience centers around small, seminar-style classes where students closely engage with the material and each other. Caring adults are all around them to offer support, challenge, and guidance. Learning is joyful. Being curious is cool. In the words of one of our students, BUA is a place where nice kids who love learning find their people.
We work hard to create a community that reflects Boston and the world where our students will live and work. The school's 202 students come from 55 cities and towns. 57% of students identify as students of color, and 31% of students receive financial aid — a reflection of our commitment to equity and access.
My family and I are new to BUA this year, but it has not taken me long to fall in love with my new home. I'm so impressed by these independent, sensitive, eager young people and the adults who have devoted themselves to helping them on their way. I'm excited for you to get to know us and discover what makes this place so special.
Bio
Before beginning his tenure as head of school at BUA, Chris Kolovos served as associate head of school at Greens Farms Academy, an independent, pre-K-12 day school in Westport, CT. In his seven years at Greens Farms Academy, Mr. Kolovos oversaw the school's academic program, from faculty hiring and professional development to curriculum and accreditation; directed major institutional efforts to strengthen diversity, equity, and inclusion; spearheaded a diversity hiring campaign that doubled the number of faculty of color during his tenure; created a new schedule, service-learning program, and faculty evaluation system; and led the adoption of new courses focused on STEM, sustainability, global studies, and social justice. Mr. Kolovos previously served as Director of Global Education at Belmont Hill School in Belmont, MA, where he chaired the history department and designed programs around global citizenship. Mr. Kolovos is a native of Boston. He attended Roxbury Latin School and then Harvard College, where he graduated magna cum laude with an AB in history. He later earned a law degree at Harvard, while serving as coordinating editor of the Harvard Law Review. He lives outside of Boston with his wife, Tracey, and their dog, Circe.
Professional
Associate Head of School
Greens Farms Academy
Westport, CT
2013-2020
Director of Global Education
History Department Chair
Belmont Hill School
Belmont, MA
2004-2013
Education
Harvard Law School
JD, cum laude, 2003
Harvard College
AB, magna cum laude, 1998
Roxbury Latin School
Magna cum laude, 1994
Further Reading
Reflection from Chris Kolovos – February 2020
Letter from Chris Kolovos to the BUA Community – June 2019
Memo from BU Provost Jean Morrison announcing appointment of Chris Kolovos
BU Today article about Chris Kolovos