Revs. Ray and Gloria Hammond Deliver Keynote Address at BUA Commencement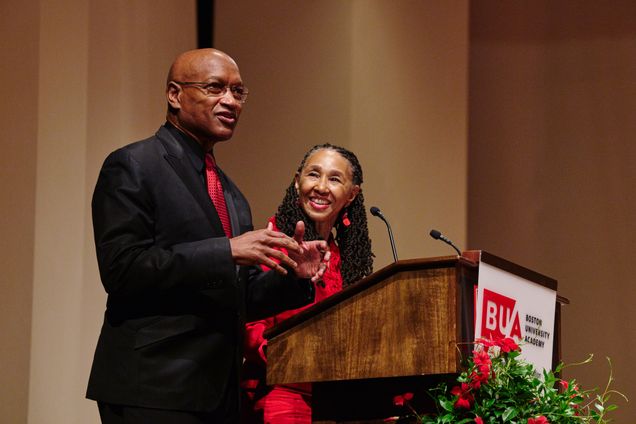 On Monday, May 23, Boston University Academy hosted its 28th commencement exercise at BU's Tsai Performance Center. The 45 members of the BUA Class of 2022 crossed the stage to receive their diplomas from Boston University Provost and Chief Academic Officer Jean Morrison and BUA Head of School Chris Kolovos. Dustin Zhang '22 and Henry Chuang '22 recited the Classics orations in Latin and Greek, respectively. Mell Aguiar '22 and Tanay Nambiar '22 delivered the student addresses. Following the ceremony, graduates and their families celebrated with a reception under the tent on BU Beach.
Reverend Dr. Ray Hammond and Reverend Dr. Gloria White-Hammond, co-pastors of the Bethel African Methodist Episcopal (A.M.E.) Church, jointly delivered this year's Commencement keynote address. The Hammonds, partners both in life and work, are pillars of social justice and community activism in Boston.
Ray Hammond and Gloria White-Hammond co-founded Bethel A.M.E. Church in Boston's Jamaica Plain. The son of a Baptist preacher and a schoolteacher in Philadelphia, Rev. Ray Hammond attended public schools before earning degrees from Harvard College and Harvard Medical School. He later earned a master's degree in religion, focusing on Christian and medical ethics, from Harvard Graduate School of Arts and Sciences. Rev. Hammond is co-founder and chairman of the Ten Point Coalition, an ecumenical group of Christian clergy and lay leaders mobilizing the Greater Boston community around issues affecting black and Latino youth. Rev. Gloria White-Hammond is a retired pediatrician from the South End Community Health Center. She is a graduate of Boston University (BA); Tufts University School of Medicine (MD); and Harvard Divinity School (MDiv), where she currently serves as the Resident Practitioner in Ministry Studies. She is also co-founder and executive director of My Sister's Keeper, a women-led humanitarian and human rights initiative that partners with diverse Sudanese women in their efforts toward reconciliation and reconstruction of their communities. Both Ray Hammond and Gloria White-Hammond hold  honorary degrees from Boston University.
In their keynote address, trading turns with their remarks, Rev. Hammond and Rev. White-Hammond drew on their own formative experiences — Ray Hammond leaning on the support of his peers, despite being one of the few African-American students at his Philadelphia high school, and then later in college and medical school; Gloria White-Hammond finding support from a professor during a rocky first undergraduate semester at BU — to emphasize the importance of supportive community.
Rev. Gloria White-Hammond shared:
"For you, the graduates, this is a day of making memories. And for those of us who are watching you graduate, there are inevitable emotions of pride and joy. We have the joy of watching young people as bright and gifted and imaginative as each of you are come to this major milestone in your lives. You are the children that we — and we include ourselves — dreamed about, and prayed for, and so longed to see. You have made all of us laugh and cry, frequently at the same time.
On this day we celebrate the immense joy you have brought to all of our lives, and the high hopes that we have for you and for your future. This is your day, because it could not have come to pass without your individual commitment to hard work and sacrifice. And this is our day, because it could not come to pass without the gift of collective support from the people gathered around you today. Never forget the power of supportive community to enhance learning, to promote powerful and lasting change, and to have fun while you're doing it."
Picking up on the thread, Rev. Ray Hammond continued:
"And keep your concern for justice. Shirley Chisholm, the first African-American woman elected to the US House of Representatives used to say that 'service to others is the rent that you pay for living on the planet.' It's my understanding that many of you share that commitment to serving others, trying to make our world a fairer, more equitable, and a more just place. It's evident in the work you've done in your senior theses; it's there in your community service and a host of student-led initiatives you've been a part of.
And you know as well as I do that these past few years haven't been just about a pandemic called COVID. It's also been about protest. And racial justice and equity. It's also been about political polarization and turmoil and what we do about that as a nation and a democracy. It's been very much about climate change, as we literally watch large parts of our country on fire. You've been writing about and talking about and working for change in all these areas. But after 55 years of social justice activism, we can tell you if you think that supportive community and collaboration is powerful in your education, it is indispensable if you're going to do the kind of social justice change that sticks, that lasts, and that really shifts the way the world works."
It was our privilege and honor to host Ray and Gloria Hammond as this year's commencement keynote speakers, and we are grateful for the warmth, humor, and words of wisdom they shared with our graduates and all of the assembled guests last Monday. The Hammonds's complete remarks are available here. The full video of BUA's 28th commencement ceremony is available here.