Three BUA Seniors Selected as Top 300 Scholars in 2023 Regeneron Science Talent Search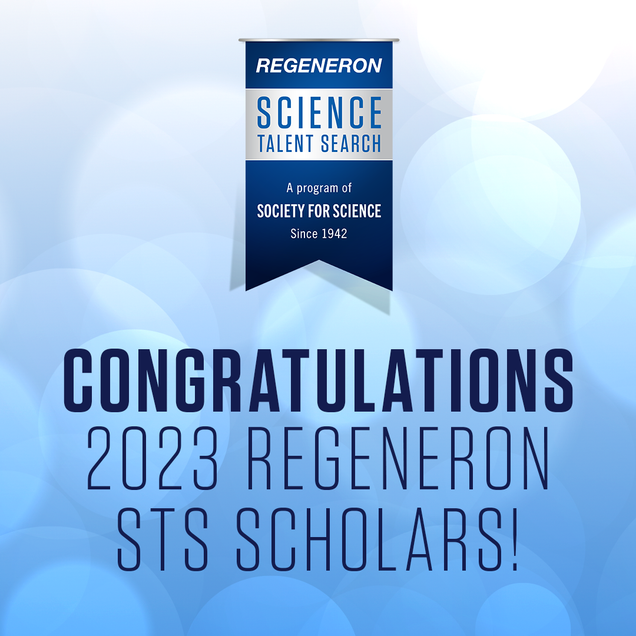 Three seniors at Boston University Academy — Alex Jin '23, Alvin Lu '23, and Joseph Wang '23 — were selected as top 300 scholars in the 2023 Regeneron Science Talent Search, the nation's oldest and most prestigious science and math competition for high school seniors. BUA is one of the few high schools to have three scholars named in the top 300 list. 
The top 300 scholars were chosen "based on their outstanding research, leadership skills, community involvement, commitment to academics, creativity in asking scientific questions and exceptional promise as STEM leaders demonstrated through the submission of their original, independent research projects, essays and recommendations," according to a press release issued by the Society for Science, the sponsor organization of the Regeneron Science Talent Search.
Each student's winning project forms the basis of their senior thesis, an independent research project that is the culmination of a student's academic career at BUA. Alex, Alvin, and Joseph share details of their research, below.

Alex Jin's project, titled "A SEIRD+V Model for the Effect of Vaccination and Social Distancing on SARS-CoV-2 Infection and Mortality," creates an epidemiological model and metric to guide public policy in the face of future pandemics:

"Respiratory viral pandemics have occurred repeatedly over recent decades, including Severe Acute Respiratory Syndrome Coronavirus (SARS-CoV-1) in 2002-2004, H1N1 influenza in 2009, Middle Eastern Respiratory Syndrome Coronavirus (MERS-CoV) in the 2012 and again in 2019, and SARS-CoV-2 since 2019. While attempts at preparedness have been made, public health infrastructure in multiple countries have been inadequate to meet the challenges of the SARS-CoV-2 pandemic. 
Modeling epidemics allows for quantifiable, anticipatory planning prior to pandemic occurrence and for policy adaptation during a pandemic itself. I created an epidemiological model (SEIRD), including vaccine efficacy, the vaccination rate of the population, degrees of social distancing, and a thresholding metric to understand the stringency required from these parameters to achieve a pre-specified target for peak infection percentage and total mortality in a population. For example, if policy makers aim to limit peak infection rate in a community to 5%, what goals should they have for vaccination rate, social distancing, etc.? This study advances knowledge in its representation of multiple public policy tools in an integrated analytic model and in its flexibility to allow modification of critical parameters to achieve utility for future pandemics."

Alvin Lu's project, "Dynamic Genome-Scale Metabolic Modelling Reveals Optimal SARS-CoV-2 Resource Partition Ratio," develops a novel framework that simulates virus-infected cell metabolism to predict potential drug targets. Alvin undertook his research under the guidance of Daniel Segrè, BU Professor of Biology, Bioinformatics, and Biomedical Engineering and leader of the Segrè Lab in BU's Department of Bioinformatics. Alvin explains:
"Unlike previous works, this model is able to evaluate changes over time and partition resources, enabling both the virus and the host to compete and grow together. We evaluated the effect of this partition and determined that there was a 'virus-optimal partition,' the percent of resources allocated to the virus that generates the most production of virions.
We tested this framework on a lung cell model and integrated a new reaction to simulate virus production, accounting for lipids as well as proteins. We prove that this change significantly alters the host cell's metabolism and provides two new drug targets. Finally, we confirmed our results by supporting them with values from pre-existing literature."
Joseph Wang's project is titled "Study of Behaviors of Bilinear Forms Under Field Extensions." He shares:
"Motivated by a theorem of Riess, we studied the behavior of nonsingular bilinear forms under field extensions. In particular, given a base field k, we explore if a property that is called Bk in this article is preserved by field extensions. Riess's theorem shows that under some mild conditions, the property Bk is preserved for field extensions C/R and R/Q, giving some insight into Beauville's weak splitting conjecture. We introduce new ideas to show that, under mild conditions, the property Bk is preserved under any field extensions, so long as k is an infinite field."
***
A total of 1,949 students around the country entered the competition this year; the top 300 scholars represent 194 American and international high schools in 35 states and China. In recognition of this achievement, each scholar will each receive $2,000. BUA will also receive $2,000 per scholar to fund STEM activities at the school. Alex, Alvin, and Joseph join BUA alumna Zoe Xi '22 in the of pantheon of recent BUA Regeneron Science Talent Search scholars. Zoe's project, entitled "Approximation Algorithms for Dynamic Time Warping on Run-Length Encoded Strings," was selected as a top 40 project in the 2022 competition. 
The top 40 2023 Regeneron Science Talent Search finalists will be announced on January 24.