BUA, BU Hosts NASA Downlink from International Space Station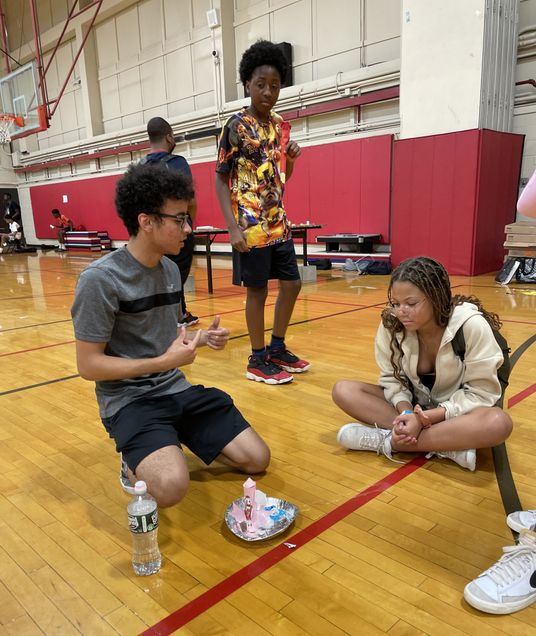 On July 20, more than 500 middle- and high-school students and educators from across eastern Massachusetts descended on Boston University's campus for a day of space exploration and STEM education in the form of hands-on activities, lab and observatory tours, and presentations with BU faculty. Many of those in attendance were affiliated with local access and enrichment programs including Alexander Twilight Academy (a BUA partner), Upward Bound, the Calculus Project, and GROW (Greater Boston Area Research Opportunities for Young Women), among others.
In the BUA gym, students built rockets out of film canisters, water, and Alka-Seltzer tablets; attempted to move a balloon along a length of fishing line in a fly-by-wire design challenge; and even had the opportunity to hold pieces of the moon and Mars, courtesy of the Maine Mineral & Gem Museum. Several BUA student and teacher volunteers were on hand to assist with the activities.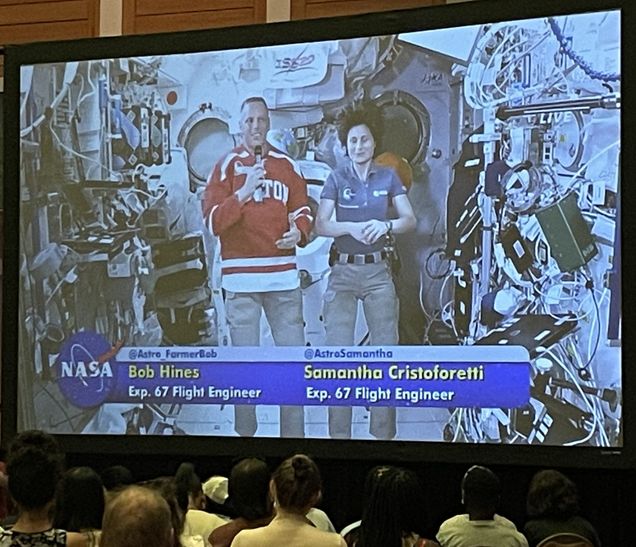 The highlight of the day was the NASA In-flight Education Downlink with astronaut Bob Hines ENG '97 and Italian astronaut Samantha Cristoforetti of the European Space Agency, Crew-4 colleagues on the International Space Station. Attired in a BU Terriers jersey, Hines floated alongside Cristoforetti, whose hair stood straight up, an effect of zero gravity, as they beamed in live from the ISS to a darkened GSU Metcalf Ballroom. Answering prerecorded questions — including several from BUA students — astronauts Hines and Cristoforetti performed some neat tricks: slurping floating droplets of water out of midair; doing weightless flips until dizzy; and demonstrating momentum and force in microgravity.
After the downlink event, participants were treated to a space-themed bag lunch of moon cheese and rocket pops.
Downlink Day was organized by Sheryl Grace, associate professor of mechanical engineering in BU's College of Engineering and a former teacher of astronaut Hines. BU President Robert A. Brown; US Senator Edward Markey (D-Mass.) (Hon.'04); Calculus Project CEO and Founder Adrian Mims; and Boston University Academy Head of School Chris Kolovos, among others, delivered remarks at the event.
If you missed it, you can watch highlights of the downlink event on NASA's YouTube channel here.