Head of School
Bio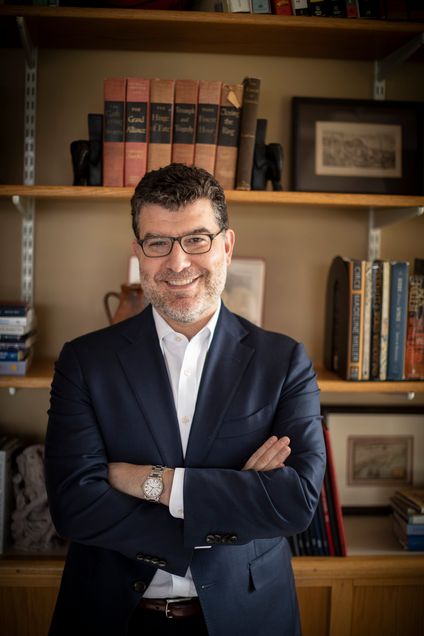 Chris Kolovos is the Head of School at Boston University Academy. Prior to BUA, Chris served for seven years as the Associate Head of School at Greens Farms Academy in Connecticut, where he oversaw the school's academic program: creating a new schedule, service-learning program, and faculty evaluation system; leading the adoption of new courses focused on STEM, sustainability, global studies, and social justice; directing major institutional efforts to strengthen diversity, equity, and inclusion; and spearheading a hiring campaign that doubled the number of faculty of color during his tenure. He began his teaching career at Belmont Hill School, where he served for nine years as a history teacher, department chair, and Director of Global Education.
A son of Greek immigrants, Mr. Kolovos grew up in the Boston suburbs. He attended Roxbury Latin School and then Harvard College as a first-generation college student. He later earned a law degree at Harvard, while serving as Coordinating Editor of the Harvard Law Review. He lives outside of Boston with his wife, Tracey, son Charlie, and their dog, Circe.
Professional
Associate Head of School
Greens Farms Academy
Westport, CT
2013-2020
Director of Global Education
History Department Chair
Belmont Hill School
Belmont, MA
2004-2013
Education
Harvard Law School
JD, cum laude, 2003
Harvard College
AB, magna cum laude, 1998
Roxbury Latin School
Magna cum laude, 1994
Interview with Chris Kolovos
What drew you to BUA?
Why are you an educator?
What do you love most about schools?
What would you like BUA families to know?
What does the future hold for BUA?
Are there any books you have read recently that you would recommend to BUA students?
What would you like to share about your family?
Search Advisory Committee
Thank you to the members of the BUA Head of School Search Advisory Committee for the care and attention they committed to the search process:
Chair: Norman Blanchard (P'16), Director of Course Planning, Questrom School of Business; BUA Head of School Advisory Board Member
Ana Albuquerque (P'21), Associate Professor of Accounting, Questrom School of Business
Olive Brown (P'15, P'20, P'22), History Instructor, Boston University Academy
Gerald Fine (P'08), Professor of the Practice, Director of the Engineering Product Innovation Center (EPIC); Executive Director of Innovate@BU
Dan Forward '05
Nastaran Hakimi, Director of Admission, Boston University Academy
Transition Committee
Thank you to the following individuals for serving on the BUA Head of School Transition Committee.
Kenny Bacow '00, BUA Head of School Advisory Board Member
Norman Blanchard (P'16), Director of Course Planning, Questrom School of Business; BUA Head of School Advisory Board Member
Nick Dent, Math Instructor, Boston University Academy
Gerald Fine (P'08), Professor of the Practice, Director of the Engineering Product Innovation Center (EPIC); Executive Director of Innovate@BU
Njeri Grevious '13, BUA Head of School Advisory Board Member
Nastaran Hakimi, Director of Admission, Boston University Academy
Rich Horn, History Instructor, Boston University Academy
Laura Jenks, Chief of Staff to BU Provost Jean Morrison
Shaheen Lakhani (P'22), BUA Head of School Advisory Board Member
Ruth Moorman CAS'88, Wheelock '89,'09 (P'15), BU Trustee
Karen Mueller (P'21, P'23), BUA Head of School Advisory Board Member
Pat O'Brien, BU Associate Provost for Budget and Planning
Rosemary White, Interim Head of School, Boston University Academy
Further Reading
Reflection from Chris Kolovos – February 2020
Student Interview with Chris Kolovos – November 2019
Letter from Chris Kolovos to the BUA Community – June 2019
Memo from BU Provost Jean Morrison announcing appointment of Chris Kolovos
BU Today article about Chris Kolovos