Parenting in a Pandemic: Free Virtual Workshop with Dr. Rob Evans and Dr. Michael Thompson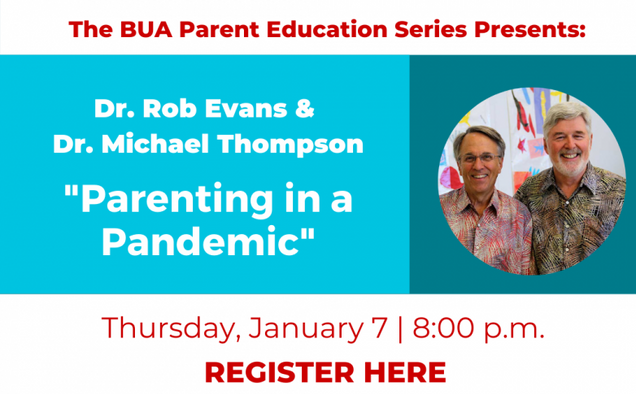 The Covid-19 pandemic has hit families hard. Many families are dealing with disruption to routine, threats to employment, and the loss of social supports. Many parents are worried that their children will emerge traumatized from this long disruption. In this talk, Dr. Evans and Dr. Thompson will address the issues and fears affecting families and will offer psychologically sound suggestions for steadying their children and themselves in this difficult time. This virtual workshop is free and open to the public.
Robert Evans, Ed.D., is a psychologist and school consultant. A former high school and preschool teacher and a former child and family therapist, he has consulted to more than 1,700 schools. He has also served for nearly 40 years as executive director of the Human Relations Service, a nonprofit mental health agency in Wellesley, MA.
Dr. Evans's interests are in leadership, helping schools manage change, improving adult relationships within schools, and crisis intervention. He is the author of many articles and three books, including Seven Secrets of the Savvy School Leader: A Guide to Surviving and Thriving and The Human Side of School Change.
Evans is an independent school graduate, and his children and grandchildren have all attended independent schools.
Michael Thompson, Ph.D., is a clinical psychologist, author, and school consultant. He has worked in schools for 50 years, starting out as a middle school teacher and later training as a counselor and psychologist.
Now the supervising psychologist for the Belmont Hill School (MA), he has worked with more than 700 schools in the U.S., Asia, Africa, Europe, and Central America. In addition, he served as the longtime facilitator for the NAIS Institute for New Heads and later for the Academy of International School Heads. He has served on the board of American Camp Association.
Thompson is the author or coauthor of nine books, including the New York Times bestseller Raising Cain: Protecting the Emotional Life of Boys and Best Friends, Worst Enemies: Understanding the Social Lives of Children.
Like Evans, Thompson attended independent schools, as did his children and grandchildren.