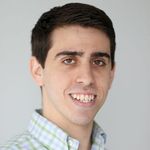 Sam Roberts '08 graduated from Case Western Reserve University in 2013 with a BSE in Mechanical Engineering and a BA in Physics and the History and Philosophy of Science. After graduation, Sam was named a 2013 Venture for America Fellow, worked as an R&D Developer at Paragon Robotics LLC, and co-founded a company called Bookwork, which connects students to part-time work. In 2015, Sam co-founded NaturAll Club, a monthly subscription service for handmade avocado hair products geared towards women of color. He currently serves as NaturAll Club's Chief Operating Officer. Last year Sam and his co-founder, Muhga Eltigani, were featured on Forbes magazine's "30 Under 30" list for Retail & Ecommerce. In his free time, Sam enjoys roadtripping, reading, and spending time with his dog.
How does a mechanical engineer end up in the natural hair product business?
I got involved in startups right out of college through a fellowship program called Venture For America. That's how I met my cofounder. She had been vlogging about her natural hair journey, and had just launched a successful crowdfunding campaign for NaturAll Club's first product. She needed some help with the operations side of the company when she went full time and I was doing freelance web development work after we shut down my first company, and was excited to work on a physical product. After about six months of helping part time, I joined full time as the COO.
The world of entrepreneurship and startups is fast-paced and changes quickly. How do you see NaturAll Club growing over the next few years? What excites you most about this journey?
I see a lot of growth in the next few years! Not just with our current offerings, but we have a three year roadmap of new products we're going to be launching. As the operations guy, I'm most excited about figuring out how to scale up our current operations to meet the growing demand we're already seeing and also managing the growth of the company from a management perspective. There's already a big difference going from a company of just two co-founders to a company of six.
Has there been a moment in your education or career that was particularly surprising, challenging, or defining – or something that sticks with you to this day?
For me a big moment was when I decided to leave my job to work on my first startup full time. I was nervous for a week before, because I didn't know how to break the news to my boss. I was nervous both because it was a big step for me, and because I had never left a job before. I felt especially bad since I was the second employee at the company, so I thought my boss was really going to miss me. I read all kinds of articles about quitting and breaking bad news, and eventually just led straight with the bad news, and it went a lot better than I expected.
If you could turn back the clock and give your high school self one piece of advice, what would it be?
My advice would be to try and get as many experiences as possible. In high school I participated in many extracurriculars like soccer, robotics, Model UN and Ultimate Frisbee. In college, on the other hand, I tended to not get as involved in as many clubs and groups because I was so busy with my several majors. I think a lot of those experiences would have been beneficial for my startup experience, where I encounter a wide variety of situations that my majors didn't really prepare me for.