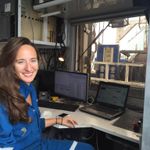 Sonja Page '09 graduated from the University of Rochester with her B.S. in Biomedical Engineering and Minors in Chemical Engineering and Business in 2013. She worked at Schlumberger, the world's leading oilfield services company, as a Senior Field Engineer. Sonja is currently an MBA student at Harvard Business School exploring entrepreneurship and full-time roles combining business and engineering in technology companies. In her free time, Sonja enjoys mountaineering, hot yoga with friends, and skiing.
Working in the California oilfields can be challenging and pressure-filled. What were you responsible for as a Senior Field Engineer? What skills and abilities do you hope to bring forward from this experience?

As a field engineer, I managed a crew of two to three operators, and used tools with sophisticated sensors to evaluate different aspects of an oil well (formation pressure, oil location, oil volume, cement quality, etc.). I also perforated wells using perforating guns. Detonating perforation guns creates multiple holes in the well casing and formation that allows oil to be extracted from the well. In order to complete these tasks, I got my Commercial Truck Driver's License, Crane Operator's License, and Blaster's License in the state of California.
My operators and I drove trucks to different rig sites to complete are variety of jobs, and were expected to work around the clock. My main truck looked like a garbage truck, and functioned like my second home. It was equipped with a cable winch that we used to lower and lift the tools into the well, a satellite, and microwave and coffee maker. While core engineering skills were necessary for the job, problem solving under pressure was the most important factor for success in the field. Building strong rapport with my operators and fellow engineers was key. These strong relationships helped push me through some difficult and stressful moments in the field. Both of these skills and my first-hand experience with operations will help me regardless of my next step after business school.

Do you have any advice for women looking to enter the historically male-dominated oil and gas industry?
I have two pieces of advice.
Find allies in your organization. My allies were my operators and some of my fellow engineers. I always made sure to have my operators' backs, and they made sure to stick up for me when necessary. My operators had been working in the California oilfields much longer than I had. They were especially helpful when I first went offshore. They made sure to tell me important information, introduced me to everyone, and encouraged me to ask a lot of questions. Looking back, my job would have been a lot more challenging without them.  

Be very clear about your performance goals with your manager. Early on, I established myself as a hard worker, but also made my goals and ambitions for a fast promotion schedule clear to my manager (typically engineers are promoted every two years). I created a timeline for my ideal promotion schedule (including performance goals to meet), and shared it with my manager. We agreed on the necessary performance required to move forward with each promotion. As I accomplished more in the field, but did not see progress with my job status and responsibilities, I referred back to the timeline with my manager, to show the deviation from the mutually-agreed-upon timeline. This helped me stay on track with my goals and stand out as a top performer.
What was your BUA thesis about and how did you decide on that topic?
I conducted research at the Mohanty Nanotechnology Lab, and wrote my thesis on reversible logic gates. I originally wanted to do research on dinosaurs, but funding at a Harvard lab fell through, and I was unable to do that project. I had a strong interest in a science topic, and felt that Professors Mohanty and Matthias (the post-doc I primarily worked with) would be great mentors for the project.
My advice to current students on thesis topics:
Don't be afraid to explore. You should attend talks on subjects that interest you to help find a great topic.

Ask a lot of questions and find mentors (professors or graduate students in labs) who you can learn from.
How did your BUA education help you in college or in your career thus far?
I commuted into BUA from the North Shore every day. My commute was 1.5 hours each way (on a good day!), and provided me with a lot of discipline and responsibility. I learned how to manage my time, and to balance a significant workload while also making time for friends, sports, and occasional relaxing. As my life has become more complicated and busy, I have used this discipline to continue to manage my life.
BUA was also the first time I faced failure. I struggled with Latin, and often didn't know how to approach learning for this subject. Over time, I learned that studying the same way wasn't working. I tried new study methods until I landed on a method that worked. Experimentation with learning methods is something that I have continued to use as I have continue to explore new subjects in different contexts.