BUA Parent Education Series
The Boston University Academy Parent Education Series is open to all members of the community.
Upcoming Events: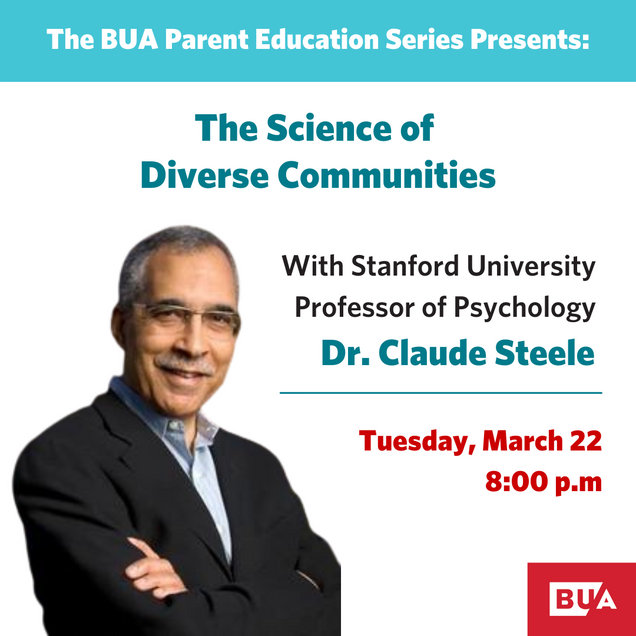 Join us for a virtual presentation with Dr. Claude Steele, Professor of Psychology at Stanford University.
Drawing on stereotype threat and social identity threat research, this talk will address the why, what and how of diverse learning communities: why they are important, a working hypothesis about what is critical to their success and what research reveals about how to achieve that success. The talk's practical aim is to identify features of diverse learning communities—schools, universities and academic disciplines—that while good for all students, are especially helpful for minority students generally, and for women in STEM fields. The talk will also explore the psychological significance of community and its role in learning.
About Dr. Claude Steele

Alicia Fenley and Kristine Lee, doctoral students and researchers at Boston University's Child Center for Anxiety and Related Disorders, will share clinical insights and research on anxiety and how parents can best support their teenage children.
About Alicia Fenley
About Kristine Lee
Past Events: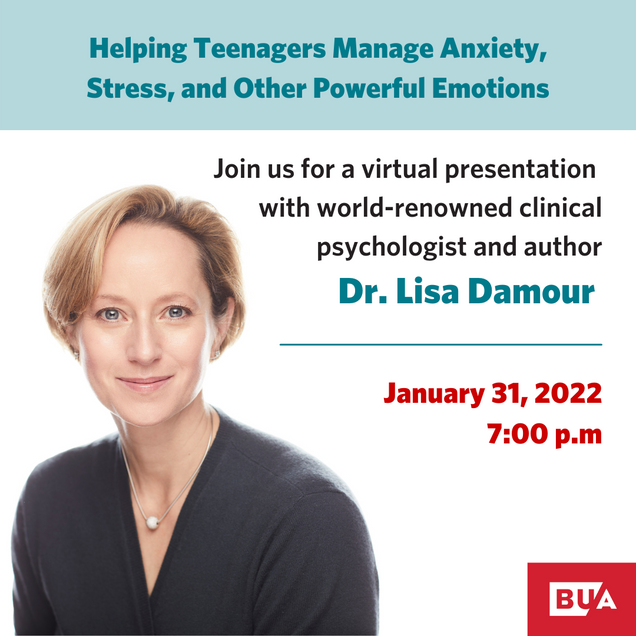 In this virtual presentation Dr. Lisa Damour will address
* teens' heightened emotional concerns in the context of the pandemic
* how to best support psychological wellbeing
* how parents can help teens manage emotions effectively
About Dr. Lisa Damour

Screen time presents opportunities and challenges for students and parents alike. Up until now, resources and a generally agreed-upon set of best practices have been available to parents in setting limits around their adolescent's screen time. During the pandemic, however, when technology has become critical for children's academic and social experiences, that guidance has been turned on its head. So what do best practices look like now? Dr. Walsh will address these questions with a particular focus on thinking about quantity vs. quality of technology use, and address challenges like multitasking and managing digital socializing.
Dr. Jill Walsh will provide a research-based approach. She is a working mother of two technology-obsessed kids and a leading researcher in the field, and will offer insights into which rules to follow closely, and which to worry about less, as we navigate this new era.
About Dr. Jill Walsh

The murder of George Floyd served as a watershed moment, highlighting longstanding racial injustice in the United States. This increased awareness manifested in independent schools last spring, when students, faculty, and alumni shared sobering personal experiences of racial and other forms of discrimination in independent schools. As schools aim to create more inclusive environments, what conversations should parents and guardians have with students to advance inclusion in meaningful and enduring ways? During this session, Dr. Derrick Gay will share insights gleaned from over 25 years advancing diversity, equity, and inclusion in independent schools and across a number of industries.
About Dr. Derrick Gay

The COVID-19 pandemic has hit families hard. Many families are dealing with disruption to routine, threats to employment, and the loss of social supports; parents are worried that their children will emerge traumatized from this long disruption. In this talk, Dr. Evans and Dr. Thompson will address the issues and fears affecting families and will offer psychologically sound suggestions for steadying their children and themselves in this difficult time.
About Robert Evans, Ed.D. and Michael Thompson, Ph.D.