Spring 2020 Remote Learning Plan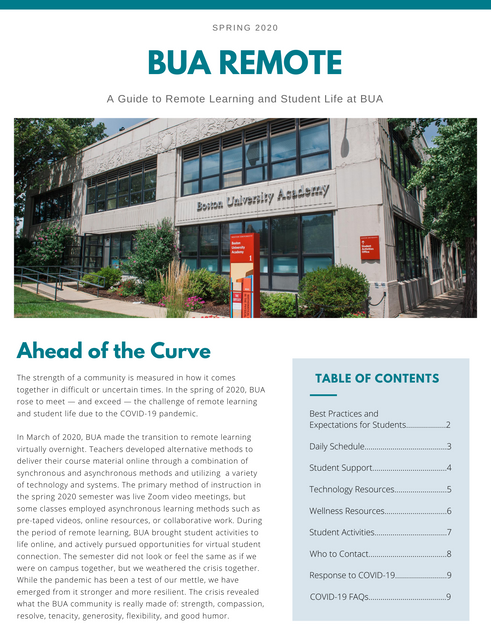 The strength of a community is measured in how it comes together in difficult or uncertain times. In the spring of 2020, BUA rose to meet — and exceed — the challenge of remote learning and student life due to the COVID-19 pandemic.
In March of 2020, BUA made the transition to remote learning virtually overnight. Teachers developed alternative methods to deliver their course material online through a combination of synchronous and asynchronous methods and utilizing a variety of technology and systems. The primary method of instruction in the spring 2020 semester was live Zoom video meetings, but some classes employed asynchronous learning methods such as pre-taped videos, online resources, or collaborative work. During the period of remote learning, BUA brought student activities to life online, and actively pursued opportunities for virtual student connection. The semester did not look or feel the same as if we were on campus together, but we weathered the crisis together. While the pandemic has been a test of our mettle, we have emerged from it stronger and more resilient. The crisis revealed what the BUA community is really made of: strength, compassion, resolve, tenacity, generosity, flexibility, and good humor.
View a snapshot of BUA's Remote Learning Plan for the spring of 2020 here.
Please note that this document is an archive of remote learning and student life at BUA in the spring of 2020, and not a roadmap for our school's fall 2020 reentry planning moving forward. Find more information on BUA's fall 2020 reentry plans here.