College Counseling

The Boston University Academy experience provides an invaluable perspective as students make decisions about life after high school. Seniors have reaped the benefits of an intimate academic setting. They have also successfully navigated an urban University campus and caught a glimpse of what it means to be a college student. The college counseling program at BUA is designed to inform and support students and families at each step in the college search and application process. College counselors work with students and families individually in an effort to understand the type of academic programs and campus communities that will be the best matches following BUA.
Boston University Academy seniors in good academic and disciplinary standing enjoy guaranteed admission to Boston University. In a typical year, approximately 10-15% of BUA's graduating seniors enroll at Boston University in a full-time degree-seeking program. Many of those students have earned prestigious scholarships, research opportunities, or advanced standing in their academic program of choice. Approximately 85-90% of BUA students enroll at other four-year colleges and universities across the US and around the world.
College Matriculation and Acceptance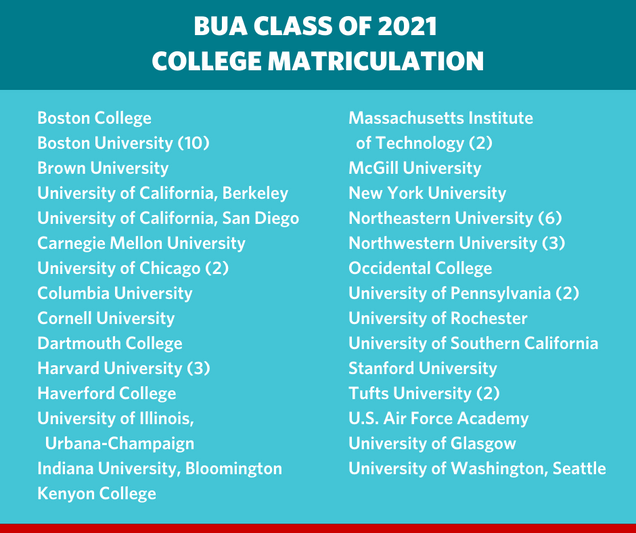 BUA College Counseling by the Numbers:
1494 mean SAT score for the BUA Class of 2022
33.4

mean ACT score for the BUA Class of 2022

61% of the Class of 2022 recognized in National Merit Scholarship Program competition
Matriculation List: Class of 2021
Matriculation List: 2016-2021
School Profile
College Counseling Newsletters
View the College Counseling Newsletter archive here.
College Representative Visits
Between 65 and 80 college admission representatives visit Boston University Academy each fall to meet with interested seniors in small groups. During an average year, most of the following colleges sent admission representatives to our campus:
Click for Drop-Down List of College Representative Visits
COVID-19 Response
In the spring semester of 2020, BUA moved to a remote learning platform due to the COVID-19 pandemic. In recognition that colleges and universities will require supporting context to properly evaluate the applications of affected BUA students who may eventually apply, the following statement was added to BUA's School Profile for the Class of 2021. The School Profile is made available to every college and university to which BUA students apply and is most often reviewed in concert with a student's transcript. The College Counseling Office is committed to working closely with students who were adversely affected by the pandemic, to ensure that any personal, familial, academic, standardized testing, etc., challenges are explained and placed in proper context.