How to Apply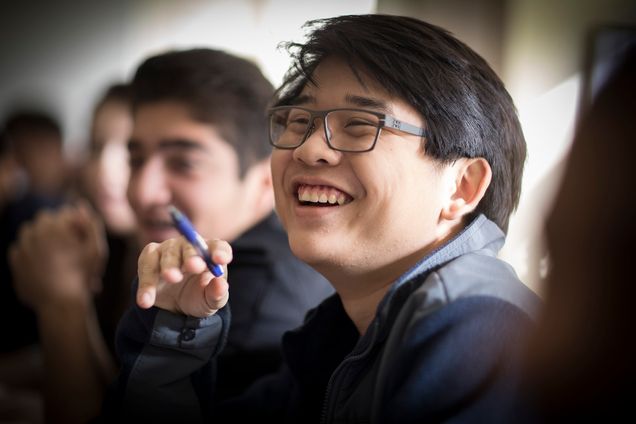 Thank you for your interest in Boston University Academy. We are excited to learn more about you and your family and, in turn, share information about our vibrant community so that you can determine whether we are the right fit for you!
Our admission season begins in September and ends in January for entry the following school year. BUA welcomes applications for grades 9, 10, and 11; however, families with students in grade 7 and younger can still complete an online inquiry form in order to be added to our mailing list and so that we can send materials when you are eligible to apply.
Important Admission Dates & Deadlines
| Date | Deadline |
| --- | --- |
| Sept. 1 | Online Application Opens and Visit Scheduling Begins |
| Sept. 27 | Interviews and Campus Visits Begin |
| Oct. 24 | Financial Aid Application Opens |
| Jan. 1 | Priority Deadline for Preliminary Applications; guarantees an interview |
| Jan. 31 | Deadline for Admission and Financial Aid Applications |
| Mar. 10 | Admission and Financial Aid Decisions Released |
| Apr. 10 | Deadline for Enrollment Decisions |
Upcoming Admission Events
Milk and Cookies Reception with BUA's Graduating Seniors
Friday, June 8, 3:30-5:30 p.m.
You're invited to an afternoon of milk and cookies with some of Boston University Academy's graduating seniors. Guests will have the opportunity to tour campus and hear from BUA's most recent graduates about their experience at Boston University Academy, as well as what they will miss most about our community when they head off to college in the fall.
Please RSVP to Nastaran Hakimi at nrhakimi@bu.edu by June 2.
How to Apply
Step 1: Notify the BUA Admission Office of your interest
Families who wish to receive admission materials, schedule an interview, attend upcoming events, and apply to BU Academy should complete an online inquiry form or call the Admission Office at 617-358-2493.
Step 2: Schedule an admission tour and interview
Call the Admission Office at 617-358-2493 to schedule your family's visit to campus. Where possible, we encourage visitors to schedule a campus tour, admission interview, and shadow visit on the same day. Please note that a tour and an interview are required components of the application. Due to our student schedule, we cannot schedule shadow days on Thursdays, though we still have tours and interviews available.
Interview and Tour Schedule — Fall 2017
Monday
Tour Times: 9:05-9:55 a.m. 12:15-1:05 p.m. 2:15-3:05 p.m.
Interviews: 10:10-11:00 a.m. 1:15-2:05 p.m. 3:15-4:00 p.m.
Tuesday
Tour Times: 9:30-10:20 

a.m.

1:55-2:45 

p.m.


Interviews: 10:30-11:20 

a.m.

3:00-3:45 

p.m.

Wednesday
Tour Times: 9:05-9:55 

a.m.

12:15-1:05 

p.m.


Interviews: 10:10-11:00 

a.m.

1:15-2:05 

p.m.

Thursday
Tour Times: 9:30-10:20 

a.m.

1:55-2:45 

p.m.


Interviews: 10:30-11:20 

a.m.

3:00-3:45 

p.m.

Friday
Tour Times: 9:05-9:55 

a.m.

12:15-1:05 PM 2:15-3:05 

p.m.


Interviews: 10:10-11:00 

a.m.

1:15-2:05 PM 3:15-4:00 

p.m.
Step 3: Create an account in Ravenna, BUA's online application system
Your family can electronically submit the various components of the application and track the status of your materials through Ravenna. Once you register with Ravenna, you will need to create your child's basic profile and then select 'Boston University Academy' from the School Directory to begin the application process.
Step 4: Complete the Preliminary Application through Ravenna
This portion of the application captures biographical information in addition to an initial student profile and a non-refundable application fee ($60 domestic, $100 international). Please contact the Admission Office if the application fee is a hardship for your family. Your family is required to submit the Preliminary Application prior to an admission interview; all families who do so by January 1 will be guaranteed an appointment.
Preliminary Applications are only available online through Ravenna.
Step 5: Register to take the necessary standardized test(s)
The Secondary School Admission Test (SSAT) is required of all applicants unless a student is applying for grade 11, in which case PSAT or SAT scores are preferred. Registration materials are available at www.ssat.org, and official score reports must be sent directly from SSAT to the Academy (SSAT code 1761). Fee waivers are available upon request from the Admission Office if the cost of registration is a hardship for your family. This admission season, we would welcome (but don't require) applicants to submit The Character Skills Snapshot as a supplement to their SSAT scores.
International applicants must also take the Test of English as a Foreign Language (TOEFL). Official score reports must be sent directly from ETS to the Academy (TOEFL code 4622); more details and registration information is available at www.ets.org/toefl.
Step 6: Submit all additional application materials by January 31
A complete application for admission includes these additional pieces:
Family-Provided Materials
Student Questionnaire
Graded School Essay (can be uploaded electronically)
Parent Questionnaire
School-Provided Materials*
School Report/Recommendation
Current English Teacher Recommendation
Current Math Teacher Recommendation
Transcripts (current grades and reports from the previous two years)
* Teacher recommendation requests are sent electronically within Ravenna therefore you will be required to indicate the appropriate person at your student's school to receive each of these forms. The school will then submit these items directly to BUA.
Additional Materials Required of International Applicants
While BU Academy is able to accept applications from families living outside of the United States, it is  important to clarify that we are not a boarding school.
International students applying for grades 9, 10 and 11 must meet the following criteria:
Admissible candidate based on academic merit and character.
Evidence of English proficiency: BUA requires a minimum total score of 100 on the TOEFL; test results should be submitted prior to scheduling an interview and an official score report needs to be received by January 31.
Written explanation of the student's anticipated living arrangements: unless there is an extenuating circumstance, at least one parent must be planning to move to the Boston area with the student; as a reminder, we are not a boarding school nor do we provide or coordinate homestays.
In-person writing sample: students will be asked to sit for a timed-writing assessment on the day of their campus visit/interview.
Additional Materials Required of Homeschool Applicants
Detailed Transcript  (in lieu of the School Report): note the total number of years that the student has been homeschooled as well as the names, length, textbook(s), teacher's names, and an evaluation for each course the student has taken in the last three years; please also provide syllabi, if possible.
Daily Schedule: provide a detailed daily schedule for a typical week of school including any extracurricular involvement with a local school or community.
Teacher Recommendations: at least one recommendation must be written by a non-family member; additional recommendations from teachers who have knowledge of the student's academic ability are also welcome.