Virtual Visits and Events
Get to know Boston University Academy through the following virtual visit opportunities:
Connect with a Member of the BUA Admission Team
Do you have questions about our academic program, community, or application process? Schedule a time to connect with a member of our Admission Team via Zoom or phone call. No question is too small or too insignificant. We're eager to meet you!
Past Events:
MasterClass Series
October 26 | November 16 | December 7 | January 25 | February 22
I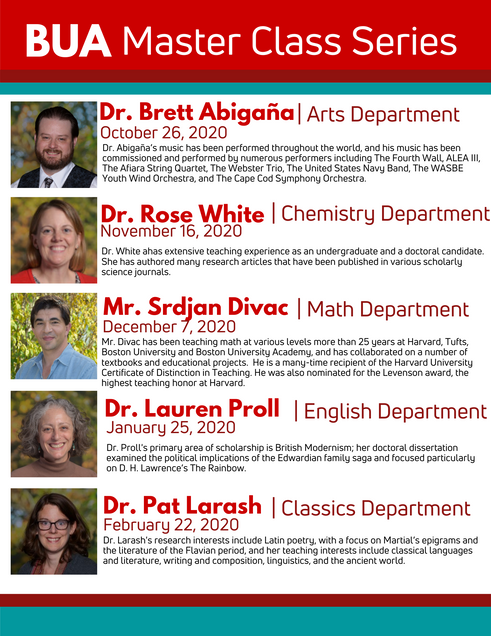 t is our pleasure to introduce the BUA MasterClass Monday Series. BUA teachers are the heart and soul of our school, and we want applicants (and their parents!) to experience the dynamism of our academic program for themselves.
All MasterClasses run from 7:30-8:30 p.m. via Zoom. Space is limited, so reserve your spot now!
Monday, January 25:
Dr. Lauren Proll (English Instructor)
Monday, February 22:
Dr. Pat Larash (Classics Instructor)
Virtual Open Houses
Watch the recording of the Open House student panel here!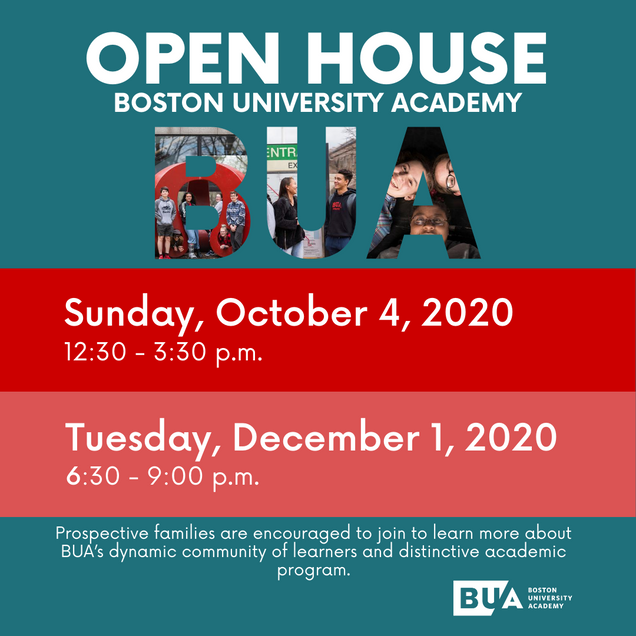 Join us via Zoom to hear from our Director of Admission, Head of School, teachers, students and current parents about our distinctive program of studies and warm, tight-knit community. Following the welcome program, there will be sessions to hear more about specific subject areas, financial aid, our parent network, and clubs and activities offered at BUA.
Evening with the Head of School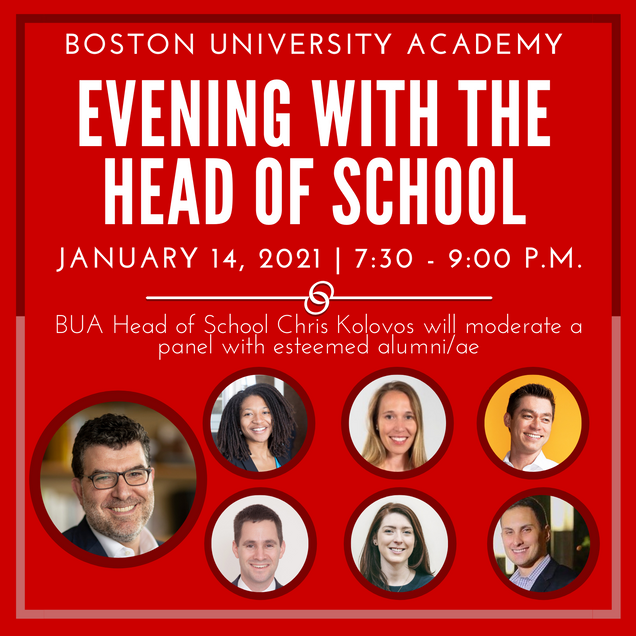 Boston Independent School Collaborative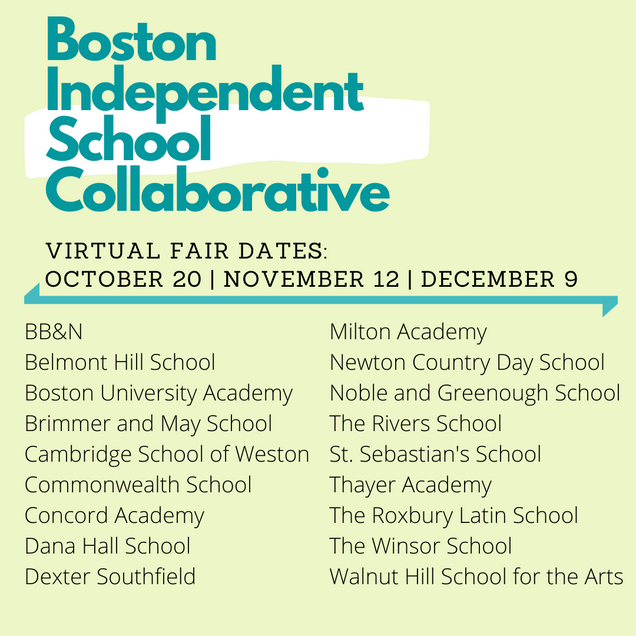 Join Directors of Admission from 18 Independent Schools in the Boston area to learn more about the application process, our programs, and next steps. Each of the three sessions will start with a short informational panel about the value of independent schools, followed by opportunities to connect with individual schools and their admission teams. BUA will be on the panel for the November 12 event, but available at all three to connect during the school-specific information sessions.
Joint Information Session: Boston University Academy & Commonwealth School
Watch the recording of the Joint Information Session here!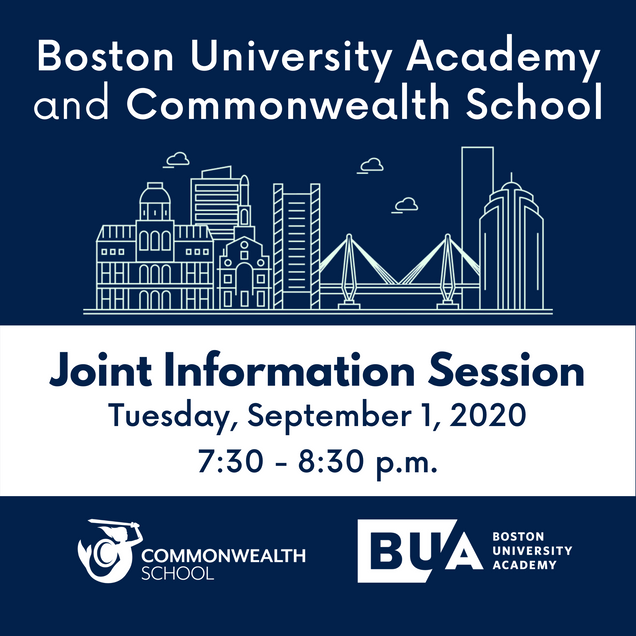 We welcome your family to join Directors of Admission from Boston University Academy and Commonwealth School to learn more about our academic programs and unique communities. We will share information about our respective schools and outline our plans for our engaging and exciting virtual admission processes this year. There will also be an opportunity for Q&A.
Discover the Value of Independent Schools
Watch the recording of the Value of Independent Schools webinar here!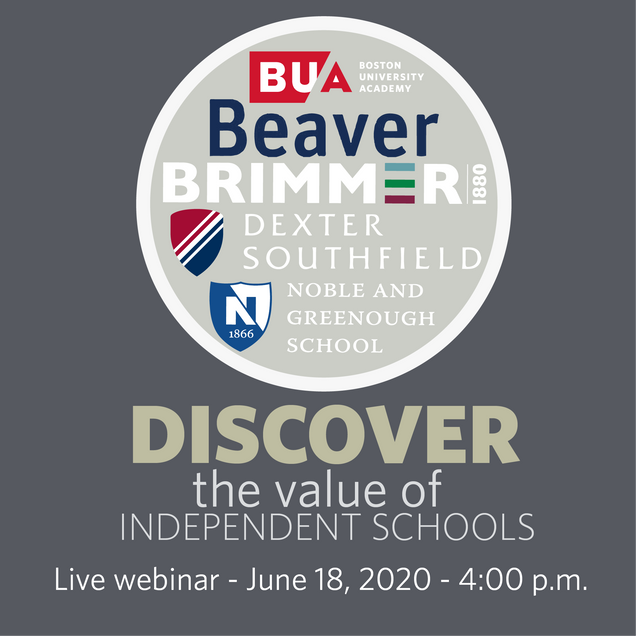 We invite you to join directors of admission from five local schools to learn about educational choices available to your child and the value of an independent school education. They will debunk common misconceptions about independent schools and answer questions about their programs, the admission process, financial aid, and much more!
If your family is considering independent school options or you are interested in learning more, please join us for an informal panel discussion and Q&A in webinar format. Parents and students are both welcome. 
Milk and Cookies
Watch the recording of the Milk and Cookies webinar here! 
Rising 8th graders and their families are invited for an afternoon of virtual milk and cookies for prospective families to get to know more about our warm and vibrant school community and rigorous academic program. Participants will have the opportunity to hear from BUA's most recent graduates about their experience at BUA, as well as what they will miss most about our community when they head off to college in the fall. This event is intended for rising 8th graders (currently in grade 7) and their families.