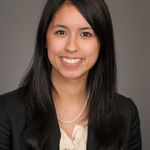 Jessica Conklin '04 is a white collar criminal defense attorney who also protects clients in business litigation and students facing disciplinary proceedings and Title IX investigations. She is an associate at Laredo & Smith, a boutique Boston law firm with deep expertise in business litigation, white collar criminal defense, government investigations, business and employment law, as well as estate planning.
As a co-founder of the Boston Associates Networking Group (BANG), Jessica provided an avenue designed to bring together associates from small- and medium-sized law firms, as well as in-house legal departments. Group members support one-another, explore opportunities for both professional and personal development, and discuss pressing issues that often arise in an associate's practice.
Jessica is a magna cum laude graduate of Hamilton College and a graduate of Boston College Law School. During her time at Hamilton, she majored in Philosophy and minored in Women's Studies, and won the Earl H. Wright Prize for Excellence in Public Discourse and Advocacy. While at BC Law, Jessica served as a research assistant to two professors, served as president of Law Students for Reproductive Justice, and was a member of the Asian Pacific American Law Students Association.
When not defending clients, Jessica loves to read and travel, and is an avid photographer.
You have been interested in debate, advocacy, and law for a long time. How did your interests develop and were there certain experiences that helped you to narrow your academic focus?
I have always been "loquacious" and argumentative, at least that's what my pediatrician told my mother. From an early age, my mother was convinced that these qualities would make me a good lawyer. Around the age of five, it was decided for me that I would go to law school. I have a drawing of a judge from kindergarten that says, "I hope to be a supreme court justice someday." Clearly, my parents had big dreams for me!
When I was in middle school, I drafted a contract that said if I followed certain rules, my parents would get me a cat. I made both of my parents sign this contract. Unfortunately, that was my first introduction to the rule of law that contracts with minors are not enforceable – I did everything that I was supposed to do, presented my parents with the signed contract, but still did not get the cat!
Despite this early encouragement from my parents, I also made sure to confirm my actual interest in the practice of law through various classes, activities, and internships. At BUA, my interest was reinforced through vibrant class discussions and my conversations with Dr. Davis. I loved BUA's small class sizes and the lively conversation and debate facilitated by the roundtable discussions. When I went to Hamilton, I majored in philosophy and received a grant to intern at the Community Action Agency of Somerville. During the internship I was able to meet with clients and assist with eviction prevention. I also worked for a summer in the Attorney General's Office fielding calls for the Elder Hotline. The AG's internship exposed me to a variety of legal areas such as elder abuse, debt collection practices, mental health concerns, and fraud. By the time I began studying for the LSAT and applying to law schools, I was confident that a career in law was right for me.
Does a specific personal approach or philosophy guide your defense and representation practice?
At Hamilton, I took a communications class that taught "active listening," and that is a concept that I have incorporated into my practice of law. In my practice, it is important to always listen to what clients are saying, not to make judgments or assumptions, and to build trust and rapport. When I go to court, I am often greeted with, "good morning, counselor," which seems fitting because I really do try to focus on the counseling aspect of being an attorney.  
Has there been a moment in your education or career that was particularly surprising, challenging, or defining – or something that sticks with you to this day?

Actually, yes! The transition from Somerville public school to BUA was particularly hard for me. I excelled in Somerville public school, and when I went to BUA I initially struggled. I was even moved down from Calculus to Algebra II. It was very humbling, though in hindsight, that experience was very helpful. I learned that just because something does not come easily, does not mean you should give up or cannot excel in the future.
When I went to Hamilton for college, I felt relieved because BUA had prepared me so well. After graduating from Hamilton, I went straight to law school. BC Law had a different structure than Hamilton, your grade each class was based on just one test taken at the end of the semester. Although the move from college to law school was difficult, I felt prepared and more confident because I had already experienced that kind of transition at BUA.
You participated in BUA alumni panels this past spring (thank you!). What motivates you to connect with current students and alumni?
Many people have helped me get to where I am today, and I feel so fortunate and thankful for that. BUA provided a great environment for personal growth and learning – several teachers really supported and nurtured me. They made time to talk with me after school and provide extra help. I am happy that I have been able to keep in touch with many of my BUA teachers over the years. My BUA art teacher even took my engagement photos!
Finally, BUA taught me to be a leader. At the Academy, your opportunities are only limited by your imagination. My friends and I were able to petition the school to start a satirical newspaper. The school let us run it independently and gave us the freedom to express ourselves. That experience was invaluable. Now, if I see something missing, I am not afraid to create it myself. When I graduated from law school, I noticed that a group for associates from small- and mid-size firms did not exist, so I started one with a friend! The group has now grown to include over 65 attorney members. Without my experience at BUA, I am not sure that starting a networking group from scratch would have even crossed my mind.