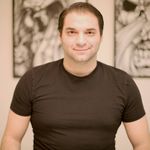 Rick Florino '02 owns, operates, and oversees the preeminent entertainment industry writing, media training, and messaging firm Written On Time, Inc. Since 2006, he has written official bios, press materials, speeches, statements, copy, and more for countless GRAMMY® Award-winning multiplatinum music legends, Academy® Award-winning actors and actresses, athletes, industry executives, and influencers throughout the worlds of fashion, lifestyle, technology, and beyond. The company is headquartered on Hollywood Boulevard with a staff of three.
He has written two critically acclaimed books: the underground phenomenon Dolor, and sought-after entertainment industry guide Do The Devil's Work For Him (co-written with Amy Sciarretto). He has two film projects in development with major award-winning production partners.
His journey began in Boston, MA as a lifelong film and music aficionado. He attended Boston University Academy and graduated Magna Cum Laude in '04 from Boston University's College of Communications at 19 years old due to getting a jump start on college at 15 at BUA. His prior experience spans running various music industry web sites, handling film and video game marketing, and writing for countless publications. Outside of film and music, he loves playing video games, boxing, watching the Celtics, Red Sox, and Patriots, and spending time with his family and newborn son.
After writing for different magazines and media platforms, what led you to launch your business, Written on Time, Inc.? How do your copywriting and creative writing experiences influence each other?
It happened naturally. I was conducting so many interviews for other outlets that I had developed strong relationships with the record labels, publicists, and managers. One day in 2005, an artist manager asked if I wrote band bios, I figured if he thought I could do it, I probably could, so I said, "Yes, all the time." I'd never written a bio at that point, but I dove headfirst into it. Typical bios range from one to two pages and function as marketing materials for a client regardless of industry. That first bio felt so natural and fun to me. I derived a real sense of fulfillment from being on the artist's side and helping a record campaign rollout rather than simply covering it for a publication. As I was dealing with record labels frequently at the time, any time I did an interview for a publication, I mentioned to the label, "By the way, I write bios." I was still new at the time, so I had to personally self-promote in every email. What typically ensued was a label, manager, publicist, or artist would need a bio last minute, and it would click, "Who's that guy who said he writes bios in every email?" They'd reach out to me, and I'd deliver high quality copy within 24 hours. Most of this material is needed imminently, so my ability to focus and turn around compelling bios instantly separated me. It was all based on work ethic. To this day, if I promise someone a piece by a certain time or day, I always live up to that. Hence, the name Written On Time, Inc. Organically, the business grew from there, but it took ten years from 2005 and that first bio for me to become self-sufficient. Media training happened the same way. One day, a publicist said, "You do media training, right?" I said, "Of course, all the time!" Once again, it was my first time. Now, I do at least one session a week. Additionally, I like to remind all clients I do media training in every email [LAUGHS].
For me and the staff at Written On Time, Inc., copywriting IS creative writing. The copy is most compelling when it's creative. They're one and the same. If it's an entertainment industry lawyer or a blockbuster actor, I approach the bio with the same energy, enthusiasm, and passion. Writing is writing. There are no boundaries, which make it the most magical thing in the world. One day, I'm writing a bio for a pop star, and the next I'm working on a speech for a yoga guru. Each experience influences and inspires you.
You have interviewed and profiled countless artists, celebrities, and business professionals. Who have been your favorite interviews and why do they stand out?
Wow, this year has been really intriguing as far as interviews go, so I'll start there. The next three I'm listing have all happened in the last three months, and I can speak to them in depth.
I recently interviewed Lenny Kravitz, who was so amazing and inspiring to talk to. He's just in tune with the universe around him as an artist, and the way he tells stories, you feel like you're in the room with him. That was an honor. He's a true artist through and through and he raises the bar with every record, movie, and project. 
Keith Urban is super cool as well. He's another wonderful storyteller, down-to-earth, smart, and a hilarious presence. We spoke for an hour, and it was just passion for music all-around on both sides of the phone. I look forward to chatting with him again. Additionally, he elevates his game on every record!
Kirdis Postelle is the EVP and General Manager of HITCO, which is a really fantastic new label founded by L.A. Reid. I recently interviewed her, and she was so inspiring as well. She's been behind-the-scenes of some of music's most historic moments, but she couldn't be more humble and simply driven to share great music. To me, that's what this business is all about. Again, I can't wait to hear more of her stories about working at Aftermath in the nineties and all of this incredible stuff.
Those are three recent interviews, but every interview has its own merits and they're all special to me. Lifetime interviews that meant a lot were going to Las Vegas to hang out with the cast of The Hangover (Zach Galifianakis, Bradley Cooper, Ed Helms, Heather Graham, and Director Todd Phillips) and interview them during the first film, Quentin Tarantino at Amoeba Records, Robert Duvall, Mark Wahlberg, Hugh Jackman (My son is named after Logan!), Harrison Ford, Sigourney Weaver, Jeff Bridges, Josh Brolin, Ray Liotta, Elton John, James Hetfield, Maynard James Keenan, Chris Cornell, Pearl Jam, Lionel Richie, Drake, Nas, DJ Khaled, Travis Scott, and so many more I'd need ten interviews to really give this question its due. I will have to also say bringing together Corey Taylor of Slipknot and John Cusack together on one call was amazing as well as Corey and the late great Wes Craven—just because worlds collided in the most fun manner.
It can be challenging to get experience without having experience. What tips do you have for young alumni looking to "make it" in today's entertainment industry?
It's really just about doing it. If you want to write, just write. Start a blog and write consistently. If you want to make movies, post them on YouTube. If you want to make music, make a Soundcloud page. There's nothing stopping you. I also think you need to do the most you can if you really want it. Don't get one internship, intern at three places, because you will meet three times as many people and increase your chances of getting a job threefold. Don't let anyone tell you that you can't be what you want to be either. Keep going no matter what. Nothing happens easily. It's about perseverance and hard work more than where you went to school, who you know, or anything else. If you want it, go take it, but put the work in. For more tips buy Do The Devil's Work for Him [LAUGHS].
BUA teachers remember you as persistent and an extremely hard worker. How did BUA help you develop these skills and how have they helped you navigate the media and entertainment industry?
BUA helped me by challenging me beyond anything I thought possible. I didn't have such a rigorous and enhanced curriculum for junior high and elementary school. I didn't come from the world of Algebra at seven and Rachmaninoff symphonies and concertos at four, but I did know if I worked harder than everybody I'd get there, so that's what I did. BUA's curriculum was wonderfully uncompromising. There were no shortcuts, either you stepped up or you got cut. It brought the best out of me. In some ways, nothing I've done since was as difficult as taking ancient history, ancient Greek, physics, and calculus all in my first year! I rewrote my notes over and over again to memorize them. I spent time with every teacher after class to see how I could improve. I learned how to write by reading. College was a breeze by comparison. BUA pushed me to be who I am, and I'll never forget it. I'm thankful for my mom every day for pushing me to go there and believing I could make it through. As far as mental fortitude goes, the entertainment industry's got nothing on BUA.