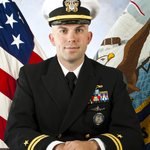 After graduating from BUA, Alexander Voeller '00 attended the United States Air Force Academy, where he received his B.S. in Mechanical Engineering. Alex holds a Master of Science degree in Engineering Management from Old Dominion University and a Master of Science degree in Mechanical Engineering from the Naval Postgraduate School.
Some of his most recent roles include serving as the Engineering Officer aboard USS BOISE (SSN 764). While serving as the ship's Engineer, he was responsible for the maintenance and operation of the nuclear reactor, engine room, and all of the ship's support systems. He completed a highly successful six-month deployment to the EUCOM theater of operations.
Following his time on the BOISE, he reported to the Defense Threat Reduction Agency where he was J3/7 Nuclear Branch Chief. He conducted seven inspections in the Russian Federation under the auspices of the Plutonium Production Reactor Agreement. These inspections included monitoring Russia's stockpiles of weapons grade Plutonium as well as their inactivated Plutonium production reactors. Additionally, he completed three escort missions within the US ensuring that the Russian Federation monitors were able to exercise their inspection rights regarding the US's shutdown plutonium production reactors.
Alex was selected to serve as the final Executive Officer of the USS CITY OF CORPUS CHRISTI (SSN 705). He spent ten months as the XO and completed the crew release and final preparations for recycling of the ship, notably including removal of the nuclear fuel.
In July 2017, he reported to COMSUBGRU NINE, where he is responsible for the material readiness of the 8 SSBN and 2 SSGN submarines stationed in Bangor, WA as well as ships undergoing inactivation at the Puget Sound Naval Shipyard.
Alex married Lael Jacklyn Voeller in 2007 and they have two sons, Jordan (6) and Caleb (4). In his free time, Alex enjoys camping, traveling, and serving at his church.
You are currently the Material Readiness Officer of Commander, Submarine Group 9. What are you responsible for in this role? What are the biggest challenges you face?
I am responsible for keeping the Commander, Submarine Group NINE, RDML Converse, informed of all maintenance and material problems that affect the boats assigned to CSG-9. Of particular interest is anything that affects the ability of a ship to go to sea or remain at sea. We are responsible for maintaining a certain number of ballistic missile submarines (SSBNs) at sea at all times. Often, if one is unable to get underway, we have to keep another out until repairs on the first are completed.
The biggest challenges I face are the multiple stakeholders involved with getting each ship ready to go to sea. The stakeholders include the ship's crew, the repair facility (Intermediate Maintenance Facility Bangor), the ship's parent squadron (Commander, Submarine Squadron SEVENTEEN), as well as the operational commander (Commander, Task Force 134). Everyone has a part to play and sometimes has multiple missions to balance. Balancing each stakeholder's work load and accounting for the effects on every other ship, including the SSBNs on the east coast is a constant give-and-take between each command.
Has there been a moment in your education or career that was particularly surprising, challenging, or defining – or something that sticks with you to this day?
I remember my first ascent to periscope depth as a qualified Officer of the Deck (OOD) on my fist ship, USS MICHIGAN (SSGN 727). The transition from patrol depth to just below the surface where the periscope is just sticking out is extremely dangerous. As the OOD I was solely responsible for making sure that the ship would be safe during that transition. During the ascent and when the periscope is out of the water, the OOD is the only one who is looking through the periscope and can see what is outside the ship. While other Sailors have safety responsibilities, it all falls on the shoulders of the OOD. I realized that I was responsible for the safety of a submarine costing $2 billion and the lives of 160 sailors. The weight of that responsibility was heavy and never let up every time I completed that evolution in my career. Even with the addition of cameras so others could see the same thing I could through the periscope, that responsibility still stayed with me.
You have completed multiple advanced degrees in Engineering. How did your experience at BUA help to inspire this path and/or your lifelong pursuit of learning?
BUA encouraged me to pursue the subjects I was interested in while still ensuring that I studied a wide variety of subjects. While learning Latin was difficult, it has proven very useful in my continued study of French as well as learning Spanish on my own. The in-depth study of history kindled a love of history that I still hold through today. I enjoy reading US history as well as listening to Backstory, a podcast that looks at current events through the lens of the history of the US.
As a Naval Officer, I am required to complete a master's degree in order to be competitive for promotion. I completed my first degree through Old Dominion University through a program that gave me credit for my classwork at Nuclear Power School which is the introductory training course for all nuclear officers. I completed that degree while deployed to Iraq. It was actually out of boredom that I started my second degree which offered a similar credit for my training in Power School.
BUA kindled a lifelong need to keep learning. I don't remember having many times where I didn't have to do anything at BUA. I always feel a need to read, listen to a podcast, or otherwise explore the world around me.
Want to learn more about the fascinating lives and careers of other BUA alums?  Read additional featured alumni profiles here.