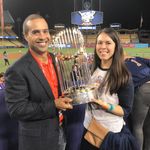 After graduating from BUA, Michael Dillon '97 received both his BA in Government and JD/MBA from Harvard. He worked in management consulting at Bain & Co. before joining the Houston Astros organization in 2012 as Vice President of Strategy and Analytics. In his free time, Michael enjoys running, reading historical nonfiction, and watching baseball (of course).
The Houston Astros won the World Series back in October! What was it like to be a part of that experience as a member of the Astros organization and as a resident of Houston? 
Having grown up as a huge baseball fan (almost an inevitability in Boston), I feel incredibly fortunate that I get to walk through a Major League Baseball stadium on the way to my office each morning.  I joined the Astros in 2012, in the middle of what would be the second of three consecutive 100+ loss seasons.  We made the postseason in 2015, and our efforts at rebuilding the organization on both the baseball and business sides were starting to pay off.  But as sweet as 2015 was from a personal and professional perspective, it is difficult to put into words how incredible it felt to be able to witness the World Championship run we had in 2017.
Heading into the 2017 season, we knew that our team would be good.  We stormed out of the gate and built a big division lead fueled by tremendous performances by stars such as Carlos Correa, George Springer, and Jose Altuve.  And then Hurricane Harvey hit, and suddenly baseball seemed far less important.  But one thing I learned through the aftermath of Harvey is that sports has a unique ability to bring a city together, and in this case, to help a city recover from tragedy.  It was a charmed run, and the team, galvanized by the deadline acquisition of Justin Verlander, won the World Series in epic fashion, making it past the Red Sox, Yankees and Dodgers, a marquee gauntlet of teams.  It was an experience I will never forget, and if the attendance of a million people at the city's victory parade is any indication, neither will the city of Houston.
In your role as Vice President of Strategy and Analytics, you use research and data analytics to improve the Astros fan experience inside and outside of Minute Maid Park. This includes work with ticketing, sponsors, business operations, and community relations. What are some of the biggest challenges you face in this role?
My team works across the organization to help ensure that we use data to make the best decisions possible.  Examples of our work include the implementation of dynamic pricing (where ticket prices change based on the level of demand for a given game) and the creation of a fan segmentation to help us understand what motivates our core fans to attend games and how to maximize their experience when they are in the park.  One particularly fun fan experience project that we worked on was the renovation of our centerfield prior to the 2017 season.
When Minute Maid Park was built, it was designed with the deepest centerfield in the majors; it also had a hill and flag pole in play.  The hill was called Tal's Hill and was a well-known feature of the park.  But when we looked at ways to enhance the ballpark experience, it was clear that the hill was not the best use of space.  We knew that the space taken up by the hill could be better put to use in a way that directly impacted fan experience.  However, the question remained about what, exactly, would go in its place.
There are always challenges in change efforts like this, but my team strives to influence the dialogue by using data to help bring ideas to life.  In this case, we utilized fan research to influence a design that included both premium and Millennial-focused areas, which had been key gaps in the park experience previously. One highlight that I am particularly proud of is how our research was instrumental in bringing in a local taco restaurant to integrate into our new Millennial-focused party deck, which has now become a clear destination spot in the park.  Overall, the project has been a huge success and illustrates the important role that data-driven thinking can have in creating value for businesses.
What is one of your favorite memories from your BUA experience?
It's hard to believe that it has already been 20 years since I graduated from BUA.  I decided to attend the school before the building was even finished, and so it has been wonderful to see the school grow and thrive.  My best memories are all centered around the friendships I built– friendships that continue to this day.  Whether it was the pop quiz "opportunities" in English class, or games of catch in front of the school (which may or may not have once resulted in a Porsche being hit by an errant curveball), there are always memories of BUA that can bring a smile to my face.
How did your BUA education help you at Harvard or in your career thus far?
I am very thankful to have had the opportunity to learn from such dedicated teachers and to be surrounded by so many talented fellow students during my time at BUA.  The small class size facilitated meaningful interactions that honed my ability to think critically and draw connections across a variety of subjects.  This environment provided an incredibly rigorous academic experience that prepared me well for Harvard.  As a result, I was able to spend more time in school exploring my interests and building friendships rather than worrying about how to cope with the additional workload that college often brings.  And even after college, the strong foundation that my time in BUA established has continued to support me as I have progressed in my career.